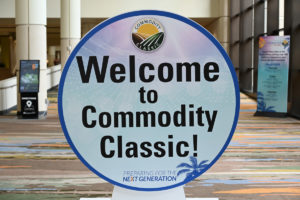 The 2023 Commodity Classic takes place March 9-11 in Orlando at the Orange County Convention Center.
This virtual ag newsroom includes links to photos and audio content available free of charge for digital or print publication or broadcast.
Photos:
2023 Commodity Classic Photo Album
Audio:
General Session
Secretary of Agriculture Tom Vilsack addresses Commodity Classic
Classic 23 Agriculture Secretary Tom Vilsack address (28:49)
Secretary Vilsack and USDA Under Secretary for Farm Production and Conservation Robert Bonnie joined the National Fish and Wildlife Foundation and farmer-leaders with Farmers for Soil Health (FSH) to sign a $95 million USDA Partnerships for Climate-Smart Commodities grant, officially launching the Farmers for Soil Health initiative.
Classic 23 Agriculture Secy Vilsack - Farmers for Soil Health MOU (3:28)
Vilsack also joined the Iowa Soybean Association to sign the Midwest Climate Smart Commodities Project, which also includes other partners such as PepsiCo, Cargill, Renewable Energy Group, Ingredion, Target, JBS, Coca-Cola, Mano y Ola, FarmRaise, Rural Community Assistance Partnership.
Classic 23 Secy Vilsack - Midwest Climate Smart Commodities MOU (2:58)
Presidents Panel –
Ross Shafer moderated panel with association leaders – ASA President Daryl Cates, NCGA President Tom Haag, NAWG President Nicole Berg, NSP Chairman Craig Meeker, and AEM Ag Board Chair Bill Hurley
Classic 23 Presidents Panel (28:43)
Syngenta Interviews
Jim Shertzer, Head of Branded Marketing, Syngenta North America Seeds – what's new with the company and why Syngenta is such a big sponsor of Commodity Classic
Classic 23 interview with Jim Shertzer, Syngenta (2:33)
NK Seeds Introduces 2023 NK Soybean Lineup – Interview with Jared Benson, Soybean Product Manager at NK Seeds
Classic 23 interview with Jared Benson, NK Seeds (3:25)
NK Seeds Products, Tips and Support before Tar Spot Takes Hold – Interview with Matt Dolch, NK Seeds Corn Product Manager
Classic 23 interview with Matt Dolch, NK Seeds (3:25)
Soybean herbicides interview with TJ Binns, Syngenta agronomist
Classic 23 interview with TJ Binns, Syngenta agronomist (3:33)
Seed Simplified – GHX Seeds interview with Morgan Dugan, Golden Harvest, commercial unit head Iowa and Illinois
Classic 23 interview with Morgan Dugan, Golden Harvest (5:36)
AgriEdge interview with Ashley Green, Digital Ag Solutions Marketing Lead, Syngenta
Classic 23 interview with Ashley Green, Syngenta (6:24)
Shawn Hock, Syngenta Corn Herbicides, Storen
Classic 23 interview with Shawn Hock, Syngenta (2:14)
Research and Development – Steve Sterchi, Product Strategy & Business Development, Syngenta Seeds
Classic 23 interview with Steve Sterchi, Syngenta Seeds (4:33)
Cropwise Sustainability – Steven Wall, Sustainability Development Manager, Syngenta
Classic 23 interview with Steven Wall, Syngenta (4:09)
Mary Kay Thatcher, Syngenta Senior Manager, Federal Government and Industry Relations, discusses the Endangered Species Act
Classic 23 interview with Mary Kay Thatcher, Syngenta (4:00)
NK Seeds Agripro brand hybrid wheat – Jon Rich, Hybrid wheat Operations Head Syngenta-Agripro; Paul Morano, Head of Cereals at Syngenta-AgriPro
Classic 23 interview with Jon Rich and Paul Morano, Syngenta-AgriPro hybrid wheat (5:49)
Syngenta Press Conferences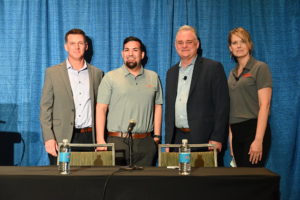 GHX Seeds – "Go for the Gold"
"Go for the Gold" Winner Rye Randolph from Canton, Illinois; GHX Certified Advisor Jason Gumbart, Apex Seed; Wade Wiley, Head of Customer Experience Strategy & Business Intelligence; Christy Schrader, GHX Brand Marketing Manager.
Classic 23 Syngenta GHX press conference
(21:03)
Syngenta Crop Protection and Seeds News Conference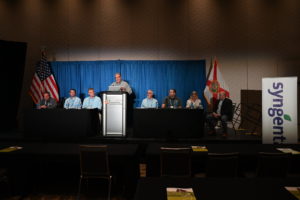 Paul Minehart, Syngenta Head Crop Protection Communications North America
Mark Kitt, Technical Product Lead for Corn Herbicides – Storen
Jonathan Furasek, Product Lead for Soybean Herbicides – Tendovo
Steven Wall, Development Manager for Sustainability – Cropwise app
Mary Kay Thatcher, Head of Federal Government Affairs and Industry Relations
Jason Sparks, Global Seeds Communications Lead
Paul Morano, Head of Cereals at Syngenta-AgriPro
Jon Rich, Hybrid wheat Operations Head Syngenta-Agripro
Classic 23 Syngenta press conference (28:00)
AEM Press Conference
AEM and the American Society of Agricultural and Biological Engineers (ASABE) presented the annual Davidson Prize awards during Commodity Classic in Orlando, Florida
Classic 23 AEM press conference (17:13)
The Endangered Species Act and Pesticides: What It Means for Your Operation:
Moderated by Mary Kay Thatcher, Federal Government and Industry Relations, Syngenta
SPEAKERS: Jake Li, EPA Deputy Assistant Administrator; Stanley Culpepper, farmer and UGA Professor of Weed Science; Tony Burd, Senior Regulatory Stewardship Manager, Syngenta; Patty Mann, Ohio farmer
Classic 23 - Endangered Species Act panel (46:23)
Commodity Classic Trade Show Interviews
Phospholutions Launches RhizoSorb® to US Row Crop Market at Commodity Classic – Phospholutions Founder and CEO Hunter Swisher
Classic 23 interview with Hunter Swisher, Phospholutions (8:25)
HGS BioScience CEO Mike Steffeck interview about new name for the company formerly known as Humic Growth Solutions and a new announcement this week HGS BioScience™ and Tiger-Sul® Collaborate in Strategic Partnership
Classic 23 interview with HGS BioScience CEO Mike Steffeck (8:09)
American Coalition for Ethanol (ACE) Plans 12th annual Washington, DC Fly-in – Katie Muckenhirn, Vice President of Government Affairs
Classic 23 interview with Katie Muckenhirn, American Coalition for Ethanol (3:32)
Renewable Fuels Association Spotlights Flex Fuel Plug-In Hybrid EV at Commodity Classic 2023 – interview with Robert White, RFA VP of Industry Relations
Classic 23 interview with Robert White, RFA (7:08)
Owen Wagner, Rabobank, Grains and Oilseeds Analyst, talks about sustainable aviation fuel SAF
Classic 23 interview with Owen Wagner, Rabobank (6:08)
Benson Hill Vice President, Grower Supply Chain, Jeff Johnson
Classic 23 interview with Jeff Johnson, Benson Hill (5:28)
Nufarm – interview Tracy Rich, Vice President, Customer & Brand Marketing, and Dan Beran, Director, Technical Services
Classic 23 interview with Tracy Rich and Dan Beran, Nufarm (6:25)
Nuseed – Roger Rotariu, North American Marketing Lead – discusses carinata
Classic 23 interview with Roger Rotariu, Nuseed (8:04)