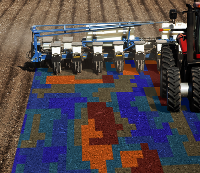 Low corn prices are causing farmers to take a hard look at what new technologies will optimize inputs while minimizing costs. As farmers begin to plan for the 2015 season, SST Software is seeing an increased interest in variable rate planting recommendations. SST's decision support technologies are used by ag service providers around the world to provide precision ag services to farmers.
Larry Tracy, founder of Precision Agronomics in Danville Illinois, has been using variable rate technologies for over fifteen years. Regarding variable rate planting, Tracy states, "Seeding prescriptions give us the opportunity to improve yield gains in areas where we lower rates and in the areas where we increase rates. Managing inherent yield variability throughout a field tightens the yield range and tends to raise the average."
To create variable rate planting recommendations, agronomists enter unique agronomic equations into SST's FarmRite® software. FarmRite® then computes the equation utilizing previously collected data to create new geo‐spatial maps that define productivity zones across the farmer's fields. Different planting rates are then applied to the various zones according to the yield potential of the zone.
Many ag service providers are utilizing multi‐year yield analysis. This analysis normalizes multiple years of harvest data and then determines productivity zones according to areas of the field that consistently yield above normal, normal, or below normal. Since many parts of a field will yield different results according to whether it is a wet or dry year, FarmRite® also applies statistical measures to determine stability zones. These yield stability maps reveal areas that are highly stable, stable, or unstable from year to year.
In 2014, Patrick Sanders, an Illinois farmer and SST employee, generated impressive results on a test field using variable rate seeding coupled with variable rate nitrogen. Sanders explains, "We decided to try variable rate planting and nitrogen on a 155 acre field using multi‐year yield analysis logic as the foundation. The increase in inputs was two extra bags of seed, totaling $800. Total applied nitrogen was the same as flat rate N but distributed based on yield potential. The result was a 260 bu/ac average, approximately 15 bu/ac more than neighboring fields. At the March corn price of $4.62/bu, that's a gain of $64 per acre."
For more information on variable rate seeding, visit: www.sstsoftware.com/variable-rate-planting

Download the full release here.