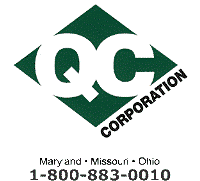 QC Corporation, a specialty micronutrients, ferrous sulfate, and custom compaction granulation products company, announces the addition of two leading sales professionals to oversee the company's product development and customer service.
John Guglielmi joins QC Corporation as Senior Vice President, Sales & Marketing and Business Development. Mr. Guglielmi has more than 24 years of agribusiness experience in wholesale and retail fertilizer sales targeting specialty agriculture, turf and professional horticulture markets. In his former role as Senior Vice President – Fertilizer Sales for Ostara Nutrient Recovery Technologies, he worked to establish Ostara's product into the supply chain and develop new opportunities. Mr. Guglielmi has also held sales leadership roles at The Andersons Plant Nutrient Group (Southern Region) and Douglass Fertilizer & Chemical.
QC Corporation has appointed Jake Socherman as National Sales Manager. Mr. Socherman has more than 22 years of wholesale and retail fertilizer sales experience primarily in the turf, professional horticulture and specialty agriculture markets. Most recently, he was the Fertilizer Sales & Product Manager for Sun Gro Horticulture where he developed a fertilizer product portfolio and managed a sales team that targeted specialty agriculture and ornamental markets. Mr. Socherman has also held sales and leadership positions in The Scotts Company, United Agri Products and Florikan ESA. At QC, Mr. Socherman will manage existing and new customer relationships and work with the QC development team to bring new and unique fertilizer products to market. He resides in West Linn, Oregon.
Read full release here.