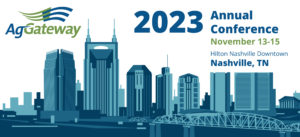 The 2023 AgGateway Annual Conference is November 13-15 in Nashville, Tennessee.
The AgGateway Annual Conference is a benchmarking event, where the industry gathers to understand the state of interconnectivity in agriculture, what the association and its membership has accomplished over the past year, and the core initiatives on deck for the year ahead.
This virtual ag newsroom includes links to photos and audio content available free of charge for digital or print publication or broadcast.
Photos
2023 AgGateway Annual Meeting Photo Album
Audio
Preview interview with AgGateway President and CEO Brent Kemp.
2023 AgGateway annual preview interview with CEO Brent Kemp 15:02
AgGateway CEO Brent Kemp opening general session
2023 AgGateway CEO Brent Kemp opening remarks 25:07
Keynote speaker: Brooks Hamilton, AI Strategy Advisors
2023 AgGateway opening keynote - Brooks Hamilton remarks 57:01
2023 AgGateway interview with Brooks Hamilton 7:33
AgGateway Executive VP and COO Jeremy Wilson
2023 AgGateway opening remarks Jeremy Wilson, EVP/COO 19:02
2023 AgGateway interview Jeremy Wilson, EVP/COO 7:10
President's Award winner Evan Wallace, National Institute of Standards and Technology
2023 AgGateway interview, Evan Wallace, NIST 2:48
Conference sponsor interview – Proagrica – Scott Cogdill, Director of Business Development
2023 AgGateway interview, Scott Cogdill, Proagrica 5:54
Animal Ag Meet Up – Philip Kubesh, Vita Plus and Peter Schott, Format Solutions
2023 AgGateway - Philip Kubesh, Vita Plus and Peter Schott, Format Solutions 5:54
2023 Portfolio Progress – Ben Craker, AgGateway Portfolio Manager
2023 AgGateway interview Ben Craker, Portfolio Manager 6:46
2023 AgGateway Ron Storms award winner Stuart Rhea, Syngenta
2023 AgGateway interview Stuart Rhea, Syngenta Digital 6:48
2023 AgGateway Ron Farrell Attitude Award winner Ann Vande Lune, Key Cooperative
2023 AgGateway interview Ann Vande Lune, Key Cooperative 3:55
Cyber Security session – Giovanni Williams, Cybersecurity Infrastructure Security Agency (CISA) and Derek Rousseau, FBI Homeland Security
2023 AgGateway Cyber Security session 30:20
2023 AgGateway Gateway to Ag Careers students
2023 AgGateway interview with GTAC students 10:56
2023 AgGateway wrap up with Brent Kemp, president and CEO
2023 AgGateway wrap up with Brent Kemp 22:08