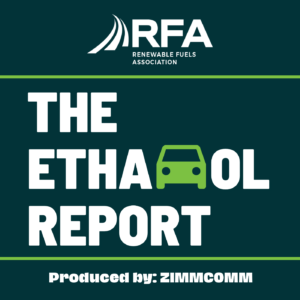 The ethanol industry has a lot to celebrate for Veterans Day – including 15 percent of its workforce.
The Renewable Fuels Association is honoring its veterans this year by launching "Veterans for Renewable Fuels" (VRF), a new program to recognize and celebrate the contributions of military veterans in the industry and provide them with opportunities to network and support one another in their careers and personal lives.
In this edition of The Ethanol Report, we hear from five military veterans who are on staff or in leadership positions in the RFA. They include RFA president and CEO Geoff Cooper, RFA Board Vice Chair and Aztalan Bio CEO Jeff Oestmann, RFA board member and president of Trenton Agri-Products Tony Leiding, RFA Director of Environment, Health and Safety Justin Schultz, and Robert White, RFA's Senior VP of Industry Relations and Market Development. They talk about the new initiative and how their military service brought them to the ethanol industry.
Ethanol Report 11-10-23
22:03
The Ethanol Report is a podcast about the latest news and information in the ethanol industry that has been sponsored by the Renewable Fuels Association since 2008.
Choose an option to subscribe