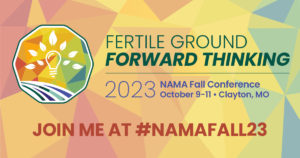 It's time for the 2023 NAMA Fall Conference.
FERTILE GROUND. FORWARD THINKING.
Join NAMA and your agri-marketing colleagues in Clayton, MO, October 9-11. At the Fall Conference, informative educational sessions will leave you with valuable tips, and you'll enjoy unbeatable networking opportunities to build lasting connections.
Between dynamic keynoters, thought -provoking breakouts and a fun ag tour, you'll gain new insights and be challenged to think differently. Don't miss out! This year's Conference will help you end the year on top and ring in 2024 with a plan for success.
This virtual ag newsroom includes links to photos and audio content available free of charge for digital or print publication or broadcast.
Photos
2023 NAMA Fall Conference Photo Album
Audio
Preview of the Conference with Trista : ZimmCast 719 - Preview of the 2023 NAMA Fall Conference (17:14)
Professional Development Award Recipients
Marketing Communications – Remarks from Laura Svec, Corteva (not able to attend but sent remarks): Laura Svec (3:18)
Public Relations – Remarks from Kenna Rathai, broadhead: Kenna Rathai (2:20)
Sales – Remarks from Jennifer Saylor, J.L. Farmakis: Jennifer Saylor (3:05)
Conference review with John Rozum, AEM, NAMA President: Interview with John Rozum (5:38)