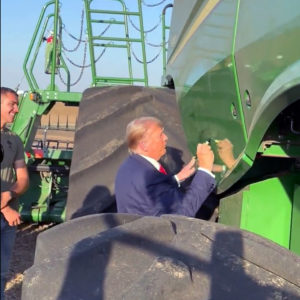 Former President Donald Trump spent Sunday in Iowa talking to farmers about what his administration did for them and what he hopes to do for them in a second term.
From trade deals to WOTUS to ethanol, Trump touted his support of farmers during a speech in Ottumwa. "The American farmer is a big deal," said Trump. "I will remain the champion of American farmers with four more years in the White House."
Trump spent a lot of time criticizing the Biden administration push for electric vehicles. "When I'm back in the White House, I will save Iowa ethanol by repealing Joe Biden's absolutely insane, job-killing, electric vehicle mandate on day one," he said.
After his speech, Trump stopped at a nearby farm and signed a John Deere combine.
Donald Trump speech Ottumwa, Iowa
39:53