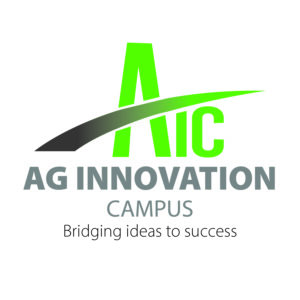 The new Ag Innovation Campus in Crookston, Minnesota held its grand opening on September 14.
As a not-for-profit crush facility, the AIC will produce an estimated 240 tons of soybean meal daily, equaling a grand total of 62,400 tons of soybean meal per year. With three independently operated mechanic crush systems, the AIC will be able to crush organic, non-GMO and GMO soybeans.
The event included tours of Northern Crops Institute and Riverview Waukon Dairy.
This virtual ag newsroom includes links to photos and audio content available free of charge for digital or print publication or broadcast.
Photos
Ag Innovation Campus Grand Opening Photo Album
Interviews/Audio
AIC grand opening remarks
54:38
Tom Slunecka – Acting AIC CEO and CEO of Minnesota Soybean Research & Promotion Council/Ag Management Solutions
Mike Skaug – local farmer and Chair of the AIC Board
Tom Frisch – Chair of the MSR&PC Board/AIC Board Member
Bob Worth – Minnesota Soybean Growers Association (MSGA) President
Dale Stainbrook – Crookston, MN mayor
Janelle Wald – Crookston Area Chamber of Commerce
Karstyn Cantrell – FFA Central Region Vice President, Oklahoma
Rep. Debra Kiel (R) District: 01B – MN House of Representatives from Crookston
Minnesota State Sen. Mark Johnson
Ben Lien – representing Sen. Amy Klobuchar
Shannon Schlecht – Agricultural Utilization Research Institute (AURI) executive director
Thom Petersen – commissioner of the Minnesota Department of Agriculture
AIC interview with Tom Slunecka, AIC Acting CEO
8:37
AIC interview with Mike Skaug, AIC Board chair
4:33
AIC interview with Tom Frisch, MSR&PC Board chair
2:10
AIC interview with Kent Meyers, AIC Plant Manager
6:33
AIC interview with Mark Jirik, Northern Crops Institute
3:32
AIC interview with David Yost, Riverview Waukon Dairy
3:17