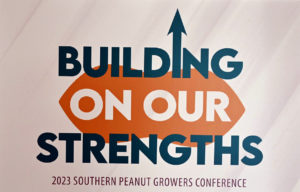 The 24th Annual Southern Peanut Growers Conference, July 27-29 at the Sandestin Golf & Beach Resort, Miramar Beach, Florida is a three-day event that provides farmers with information about peanut production, legislative issues, marketing and promotions. The conference is a joint meeting of the Alabama Peanut Producers Association, Florida Peanut Producers Association, Georgia Peanut Commission, and Mississippi Peanut Growers Association.
Visit the SPGC Conference Blog for stories from the event.
This virtual ag newsroom includes links to photos and audio content available free of charge for digital or print publication or broadcast.
Photos
2023 Southern Peanut Growers Conference photo album
Interviews/Audio
State executive interviews on this year's program, peanut grower issues, crop status and more.
2023 SPGC - Libbie Johnson, AL Peanut Producers Association (3:46)

2023 SPGC - Ken Barton, FL Peanut Producers Association (4:31)

2023 SPGC - Don Koehler, GA Peanut Commission (6:57)

2023 SPGC - Malcolm Broome, MS Peanut Growers (5:04)
Congressman Austin Scott (R-GA) remarks
2023 SPGC - Rep. Austin Scott remarks (13:35)
Rep. Scott answers questions from media
2023 SPGC - Rep. Austin Scott media (13:41)
Bob Redding, The Redding Firm, remarks on peanut policy
2023 SPGC - Bob Redding remarks (20:01)
Dr. Stanley Fletcher, ABAC Center for Rural Prosperity
2023 SPGC - Standley Fletcher remarks (26:44)
Valent Valor Award – interviews with Valent territory manager David Yoder and winner Lewis Carter, Jr.
2023 SPGC - David Yoder, Valent (1:37)

2023 SPGC - Lewis Carter, Jr., LMC Manufacturing (1:50)
Exploring the Future of Non-food Uses of Peanuts – interviews with Dr. Nino Brown, University of Georgia, and Dr. Marshall Lamb, USDA-ARS National Peanut Research Lab
2023 SPGC - Marshall Lamb, National Peanut Research Lab (2:54)

2023 SPGC - Nino Brown, University of Georgia (3:03)
Strengths of Precision Agriculture –
Dr. Simer Virk, University of Georgia Cooperative Extension precision agriculture specialist
2023 SPGC - Simer Virk, University of Georgia (4:09)
SPGC Sponsor/Exhibitor Ag Technologies – Travis Kelly
2023 SPGC - Travis Kelly, Ag Technologies (2:24)
Brendan Zurweller, Mississippi State, Assistant Professor, Agronomy – Peanuts
2023 SPGC - Brendan Zurweller, Mississippi State (4:08)
SPGC exhibitor Nuseed – Michelle Howard, Carinata commercial program manager
2023 SPGC - Michelle Howard, Nuseed (2:11)
2023 Peanut Efficiency Award winners
Lower Southeast states – Ryan Jenkins, Jay, FL
2023 SPGC - Ryan Jenkins, PEA winner (3:10)
Upper Southeast states – Colt and Brandon Woody, Aiken, SC
2023 SPGC - Colt Woody, PEA winner (:29)
Southwest states – John Reddecop, Seminole, TX
2023 SPGC - John Reddecop, PEA winner (:30)
Midsouth states – Triple D Farms, Sikeston, MO
2023 SPGC - Triple D Farms, PEA winner (1:17)