Cargill RegenConnectTM is building on two years of success in North America by expanding to France, Germany, Poland and Romania and adding nine new states across the U.S.
Cargill is leveraging its unique position in the supply chain to pioneer its award-winning regenerative agriculture program in Europe, which will see farmers in Germany, Poland, Romania, and France financially compensated to adopt climate-friendly farming practices.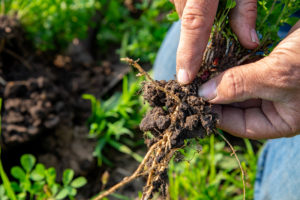 Building on two years of success in North America, Cargill RegenConnectTM will also expand from 15 to 24 states, introducing the program in nine new states including North Carolina, South Carolina, Georgia, Colorado, Mississippi, Alabama, Oklahoma, Louisiana and Texas. It will also provide U.S. farmers with higher payments, cover more commodities (such as cotton) and improve ease and access to enrollment via mobile devices.
Cargill RegenConnectTM has not only received positive feedback from growers and customers but has also been recognized by the prestigious 2023 Edison Awards™ for its innovative approach to creating a more resilient and secure food system. Its expansion demonstrates Cargill's commitment to helping farmers adopt sustainable agricultural practices across its global supply chain, rooted in the firm belief that change starts where the food system begins – at the farm.
"Companies like Cargill are helping to make it economically feasible for farmers to implement sustainable practices around the world. It is how agriculture and farmers can be part of the climate solution, helping to reduce emissions, improve water quality and use, increase yields and build up the resilience of our soils for the next generation. Our vision is to make regenerative agriculture commonplace across our global supply chain, enabling farmers to produce food more sustainably while increasing their profitability and resiliency," said Chantelle Donahue, North America Agriculture Supply Chain Vice President, from Cargill.
"Cargill RegenConnect's success to date demonstrates how making sustainable, regenerative agriculture financially viable for farmers can help nature-positive production practices scale more quickly and become standard. It is one of the many ways we plan to meet our goal to reduce emissions in our supply chain and will impact every area of our business – from sourcing wheat and corn for our starches, and sweeteners to growing rapeseed oil for our salmon feed," she added.
Cargill RegenConnectTM is a voluntary, market-based regenerative agriculture program which helps farmers improve soil health and decarbonize the agriculture supply chain.
Farmers enrolled in the program can choose the practices that are best suited to their operation's unique growing conditions, which includes planting cover crops and implementing reduced- or no-till farming. These practices help sequester carbon in the ground, build soil resilience and improve water quality.
In addition to providing technical support and resources to enable farmer success, the program offers an environmental market opportunity for participants, who are then able to connect with some of the world's largest companies actively seeking to reduce their environmental footprint while supporting regenerative agriculture.
Eligible farmers in North America are invited to enroll now through Sept. 15 by visiting Cargill Regenerative Ag Program (cargillag.com)
Eligible farmers in participating EU countries are invited to enroll beginning June 1 through July 15, 2023 at regenconnect.cargill.com.
# # #
Notes to Editors:
Cargill RegenConnect North America (Year 3)
– Expanding the program to more states: Based on the strong feedback and engagement from farmers, Cargill RegenConnect is expanding to nine new states, including: North Carolina, South Carolina, Georgia, Colorado, Mississippi, Alabama, Oklahoma, Louisiana and Texas. Now, farmers across 24 states are eligible to enroll in Cargill RegenConnect.
– Higher payments to farmers: For the 2023-24 enrollment year, farmers can earn $35 per metric ton of carbon sequestered per acre.
– Adding more commodities: Cotton growers can now participate in the carbon program and earn payments for carbon sequestration achieved through the adoption of new or expanded regenerative agriculture practices. Cotton growers are also encouraged to participate in Cargill's regeneratively-sourced cotton program to build a regenerative, traceable supply chain for growers and buyers.
– Mobile enrollment: Easier to enroll in via mobile devices.
Cargill RegenConnect EU
– For the 2023 – 2024 enrollment, Cargill will offer market competitive pricing based on metric ton of carbon sequestered per hectare.
– New countries in 2023 include Germany, Poland and Romania, farmers in France will be enrolled for a second year.
– In the EU, eligible hectares must have a primary crop of Cargill's supply chain, such as rapeseed, wheat, corn, barley or sunflower.
About Cargill
Cargill helps the world's food system work for you. We connect farmers with markets, customers with ingredients and families with daily essentials—from the foods they eat to the floors they walk on. Our 155,000 team members around the world innovate with purpose, empowering our partners and communities as we work to nourish the world in a safe, responsible, sustainable way.
From feed that reduces methane emissions to waste-based renewable fuels, the possibilities are boundless. But our values remain the same. We put people first. We reach higher. We do the right thing. It's how we've met the needs of the people we call neighbors and the planet we call home for 157 years—and how we'll do so for generations to come. For more information, visit and our News Center.
Media Contact:
Bridget Christenson
media@cargill.com