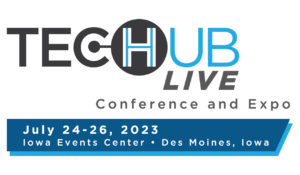 Experience the Premier Event Advancing Tech-Enabled Agriculture
Tech Hub LIVE is thrilled to announce its highly anticipated event, bringing together tech-enabled, data-driven agriculture practitioners for a groundbreaking conference. Scheduled to take place July 24-26 in Des Moines, Iowa, this must-attend event promises a unique experience that combines knowledge sharing, learning opportunities, and valuable networking.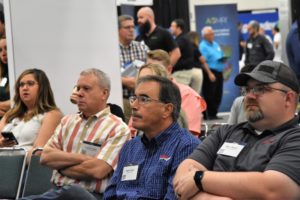 Tech Hub LIVE Conference and Expo, powered by CropLife Media Group™, the nation's leading voice for the ag retail industry, attracts the largest gathering of ag retailers, distributors, consultants, manufacturers, and other stakeholders in the ag supply chain, all committed to leveraging the latest tech innovations for practical business advantages on the farm.
The event kicks off with an exciting 1990s-themed welcome party, sponsored by the Greater Des Moines Partnership, on July 24 at 5:30 p.m. at Ricochet, just a short walk from the Iowa Events Center. This lively event sets the stage for attendees, exhibitors, sponsors, and speakers to connect, enjoy themselves, and celebrate the start of an unforgettable event.
Central to the unique event experience is the exhibit hall, where leading companies showcase their latest products and services. Attendees can explore cutting-edge tools and technologies to revolutionize their businesses. Whether searching for solutions to enhance farm data management or insights into autonomous equipment and robotics, the exhibit hall caters to every attendee's needs.
Tech Hub LIVE continues to enhance its offerings by developing new elements with Fireside Tech Chats showcasing top retailers and industry leaders sharing experiences, case studies, and best practices. Additionally, Roundtable Discussion Groups will be available each morning providing the opportunity for more focused conversations with industry experts and innovators. There's also more dedicated time available to explore companies in the exhibit hall and listen in on 10-minute Tech Talks to learn more about the technologies and solutions developed to improve operations.
The conference sessions themselves span a wide range of subjects, including optimizing digital strategies, the Ag Retailers' playbook, drones, scouting and imagery tools and techniques, innovations in application equipment, attracting and retaining top talent, farm data management best practices, and advancements in autonomous equipment and robotics. Additionally, there will be sessions dedicated to ag tech risk and reward, achieving clean data collection in the field, soil sampling insights, and actionable takeaways from the 2023 Purdue/CropLife® Retail Precision Adoption Survey.
Tech Hub LIVE has announced a groundbreaking addition for 2023, the inaugural meeting for Women in Ag Tech on July 24 from 2:00 to 5:00 PM. This crucial initiative fosters connections, engagement, and community building among women in the ag tech industry.
An essential gathering for the ag retail supply chain, Tech Hub LIVE attracts advanced in-field practitioners, trusted advisers, and precision experts, making it the ultimate destination for professionals seeking to embrace technology in helping them better serve their grower customers.
To learn more and register for Tech Hub LIVE, visit TechHubLIVE.com. Take advantage of Early Bird discounts by registering before May 19.
About Meister Media Worldwide
Meister Media Worldwide is the leading global media company serving specialty agricultural markets around the globe. With a vision of cultivating a sustainable world through the power of knowledge, Meister U.S. and international brands advance these markets with print and digital media, events, data intelligence products and custom business solutions. Meister Media Worldwide is based in Willoughby, Ohio, USA, with presences in Beijing, China, and Mumbai, India. To learn more, visit www.meistermedia.com.
About CropLife Media Group
Part of the Agribusiness Group at Meister Media Worldwide, CropLife Media Group® is the nation's brand leader in ag retail communication. CropLife Media Group® offers unmatched market reach through relevant, impactful brand extensions focused exclusively on the input distribution channel, including CropLife eNews and CropLife Webinars. Other brands in the Agribusiness Group include CropLife IRON, PrecisionTech Ag Professional, Global Ag Tech Initiative and AgriBusiness Global.
Contact:
Amy Reddington | Show Director
Tech Hub LIVE Conference and Expo
Phone: 781-858-9970
Email: areddington@meistermedia.com