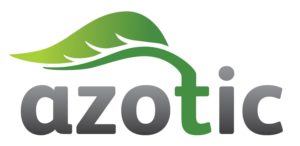 With tremendous growth in the U.S. demand for flagship product Envita®, Azotic™ Technologies, Ltd. is pleased to announce the addition of a robust U.S. sales and service team.
First introduced to the U.S. market in 2019, Envita is a naturally occurring, food-grade bacteria that provides a sustainable solution to meeting the nitrogen demands for a vast array of crops. The symbiotic relationship formed between Envita and its host forms nitrogen cells throughout the plant. The formation of these nitrogen cells, both above and below the soil's surface, creates a systemic supply of nitrogen when and where a plant needs it throughout the growing season.
"With the introduction of a unique product that fills the nitrogen gap for crops all season long, our team at Azotic worked to get Envita in the hands of farmers as quickly as possible. The most streamlined opportunity to achieve that goal was to partner with retail distributors throughout the U.S.," Tom Chavez, VP of Sales and Marketing, Azotic Technologies, Ltd. "The partnerships also provide us a direct line to the fields to vet Envita's successes on different crops in different climates and under different stressors."
Chavez says that the demand for Envita warranted the development of a U.S. sales team to better service existing retail partnerships while expanding into new geographies and partnering with additional retailers.
Aaron Eddy, U.S. Sales Manager, assumed his role in leading the U.S. sales team in October 2022. Since accepting the role, Eddy has put his more than 15 years of sales and leadership experience to work for the U.S. Envita team to establish new distribution accounts that expand Envita's market base. Additionally, Eddy has also served instrumentally in building the U.S. sales team and looks forward to getting the product he calls a "stand-out success" into the hands of more farmers across the U.S.
"Envita really stood out to me as a product, after seeing and working with so many different biologicals over the course of my career. It's the only product that works to fix nitrogen inside the plant systemically and moves throughout the plant. It doesn't need connections with the soil, other microbes or bacteria. Envita is simple, you just have to get the product on the plant, and it will start fixing nitrogen. First, I got excited about the product and then met with Azotic Technologies' leadership and saw the direction the company was headed, those three things made coming on board an easy decision," Eddy says.
Currently, Eddy manages a team of three U.S. sales representatives. Troy Dean, Scott Bishop and John Squire all serve as Envita relationship and performance sales representatives throughout their respective regions.
With more than 30 years of experience in the crop protection industry, Dean serves as a seasoned sales representative, managing relationships from Maine to Florida while working to grow additional partnership opportunities. Dean began his role with Azotic Technologies in January 2023 and shares that the role has allowed him to continue to cultivate the relationships he has built throughout his career. Dean says that helping farmers to optimize their nitrogen management combined with the opportunity to work with a global team to prove Envita's ROI in many different crops and growing conditions are rewarding aspects of his role.
Midwest sales representative, Scott Bishop, also began his role in October 2022 and provides support for corn, wheat, soybean, potato, sugar beet, carrot, onion and tomato growers and notes that Envita was the first biological product that was able to show him the proof of working inside the plant.
"Not all biologicals are the same," he says. "Envita stands out in its flexibility of application, which can be in-furrow or foliar; its ease-of-use; and the consistency of positive results across a multitude of test field locations and crops. It's a cost-effective solution that almost always shows a positive result."
Rounding out the newly formed U.S. sales team, John Squire comes to Azotic Technologies with extensive third-party experience and promotion of Envita.
"I first learned about Envita when I worked for Winfield and I remember thinking, "If this product does what they say it does, it will revolutionize agriculture," Squire says. "When I joined Legend Seeds, I brought my knowledge of Envita with me and put it to work in tests. We saw incredible results with even greater potential. I sought out Azotic Technologies and told them that I wanted to work with them, that's how excited I was about Envita."
As the most senior member of the Envita sales team, Squire joined Azotic Technologies in the fall of 2020, bringing with him 30 years of agronomic experience to serve the western U.S. and Pacific Northwest.
"It is an exciting time of growth for Envita," says Chavez. "We have proven ROI in several crops and it has been rewarding to watch the demand for Envita grow through expanded acres and word-of-mouth. The performance is there and we are pleased to grow our team of knowledgeable agriculture sales professionals to better support that growth."
For additional information or to schedule a media interview, contact Marilyn Hall at marilyn.hall@azotictechnologies.com.
###
About Envita
Focusing our efforts on developing and commercializing the use of sustainable nitrogen in agricultural applications, Azotic™ North America's management and scientific teams work to revolutionize world food production methods.
After nearly 20 years of research, Azotic Technologies' leading researcher, Professor Edward Cocking FRS, pioneered the development of a nitrogen-fixing bacteria, allowing farmers to enjoy reduced production costs while protecting their local environments. With this n-fixing technology, our advances in agricultural science have been globally recognized for their part in sustainable farming practices.
Envita®, Azotic North America's flagship product, is a naturally occurring, food-grade bacteria – Gluconacetobacter diazotrophicus (Gd), that was originally discovered in sugarcane. Envita forms a symbiotic relationship with the host plant and provides nitrogen to cells throughout the plant, both above and below ground, all season long.
Envita is registered for all row crops, including corn, soybeans, cereals, pulses, canola, cotton and potatoes.
About Azotic
Azotic (www.azotic-na.com) was formed to introduce sustainable nitrogen-fixing technology to farmers across the globe. With global offices in York, UK and North American offices in California, USA and Ontario, Canada, Azotic has taken more than 20 years of academic research and created the leading nitrogen-fixation product in the world. Finally, there is no compromisebetween high-yield production agriculture and nitrogen sustainability.