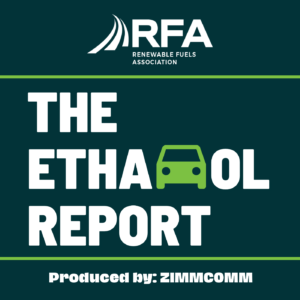 With only weeks until the summer driving season starts, the future of E15 retail sales for the summer remains in limbo, and the clock is ticking. A plan was already in place by this time last year and at this point the only solution requires immediate action by the Biden administration.
In this edition of the Ethanol Report podcast, Renewable Fuels Association President and CEO Geoff Cooper discusses why the E15 situation is so urgent right now for both producers and consumers, and reaction to the administration's proposed tailpipe emissions standards that would require more electric vehicles. In addition, RFA Chief Economist Scott Richman provides an analysis of E15 sales last year, which surpassed a billion gallons, as well as insight into the oil production market situation and how E15 is needed this summer as much or more than last year.
Listen to or download the Ethanol Report – and subscribe on your favorite podcast platform so you never miss an episode.
Ethanol Report 4-14-23
35:47
The Ethanol Report is a podcast about the latest news and information in the ethanol industry that has been sponsored by the Renewable Fuels Association since 2008.
Choose an option to subscribe