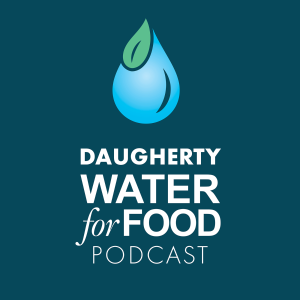 In this episode of the Water for Food Podcast, Nebraska Water Center Public Relations and Engagement Coordinator Ann Briggs sits down with her colleague and Water Sciences Laboratory Director Dr. Dan Snow who shares his path to water quality research in Nebraska and beyond. They address known and emerging contaminants throughout the state, building international partnerships, and the importance of water quality research.
The Water Sciences Lab is located on UNL's East Campus and is part of the Nebraska Water Center and the Daugherty Water for Food Global Institute. Their mission is to provide technology, expertise, services, and training in advanced analytical science supporting today's water and natural resources students, researchers, and stakeholders. The lab acts as a service center, testing samples from resource managers, agencies, and researchers in Nebraska and beyond.
Dr. Snow joined the Water Sciences Lab in 1990 as the laboratory manager and became the lab director in 2003. He oversees Water Sciences Lab staff and operations, using analytical chemistry to help understand how water becomes contaminated and what we can do to prevent it. A large portion of his work at the lab involves creating analytical methods for new or 'emerging' environmental contaminants including new classes of pesticides, pharmaceuticals, algal toxins, steroid hormones, and even explosives in environmental samples. Dr. Snow leads in the development of new methods to measure and use stable and radioactive isotopes as tracers to study environmental problems and processes.
Listen here or subscribe on your favorite podcast platform:
DWFI Podcast 23 - Dan Snow, Water Sciences Lab 25:23
The Robert B. Daugherty Water for Food Global Institute (DWFI) at the University of Nebraska was founded with the mission to have a lasting and significant impact on achieving more food security with less pressure on scarce water resources by conducting scientific and policy research, using the research results to inform policy makers, and sharing knowledge through education and communication.
How to subscribe: