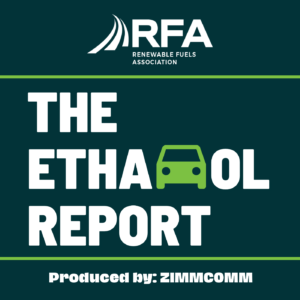 The centerpiece of the 2023 National Ethanol Conference was a first-of-its-kind concept vehicle that runs on both electricity and up to 85 percent ethanol.
In this edition of The Ethanol Report, Renewable Fuels Association VP of Industry Relations Robert White talks about the new Flex Fuel EV, which has already become a trade show star. We also hear from Jeff Wilkerson, Government Policy and Regulatory Affairs with Pearson Fuels, who was on a panel at the NEC talking about E85 in California, where sales last year topped a million gallons. And Phillip Morris with the Locust Street Group provides some insights from the latest consumer focus group study presented at the NEC.
Ethanol Report 3-23-23
17:52
The Ethanol Report is a podcast about the latest news and information in the ethanol industry that has been sponsored by the Renewable Fuels Association since 2008.
Choose an option to subscribe