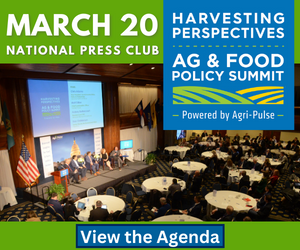 With debate on a new farm bill formally underway, the upcoming 2023 Agri-Pulse Ag & Food Policy Summit will explore some of the forward-looking ideas under development that will drive policy discussions for both this year and the decades ahead.
Sara Wyant, Agri-Pulse editor and founder, says the theme of this year's summit is Next Gen Farm & Food Policy. "It's an opportunity for anybody interested in a farm bill, farm policy, and food policy in general to really come together around some of the new ideas that are emerging," said Wyant.
Among the top names confirmed for the highly-anticipated annual summit are House Agriculture Committee Chairman Glenn "GT" Thompson and Ranking Member David Scott. Agri-Pulse is pleased to welcome the National Council of Farmer Cooperatives (NCFC) as the Platinum sponsor for the event which both offers in-person and virtual attendance.
This virtual ag newsroom includes links to photos and audio content available free of charge for digital or print publication or broadcast.
Photos
2023 Agri-Pulse Ag and Food Policy Summit Photo Album
Audio
Preview interview with Sara Wyant:
Agri-Pulse summit preview (3:45)
Agri-Pulse summit - Agriculture Secretary Tom Vilsack
(34:38)
Agri-Pulse summit wrap up interview with Sara Wyant
(5:35)