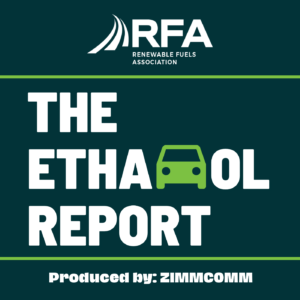 The Renewable Fuels Association 2023 National Ethanol Conference coincided with the release of EPA's proposed rule to allow year round sales of E15 ethanol, making it a very timely event with attendance back to pre-pandemic levels.
This edition of the Ethanol Report podcast includes highlights from the NEC, including remarks from RFA President and CEO Geoff Cooper; Ben Hengst, EPA Deputy Director, Office of Transportation and Air Quality; Iowa Governor Kim Reynolds; Former Rep. Cheri Bustos (D-IL); RFA Director, Government Affairs Jared Mullendore; Dana Jackson, Partner with RSM US; Former RFA chair Randall Doyal; and current RFA chair Erik Huschitt, Badger State Ethanol.
Ethanol Report 3-6-22
20:18
The Ethanol Report is a podcast about the latest news and information in the ethanol industry that has been sponsored by the Renewable Fuels Association since 2008.
Choose an option to subscribe