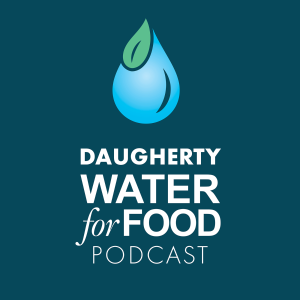 Dave Aiken is a DWFI faculty fellow and a professor of agricultural economics at UNL's Institute of Agriculture and Natural Resources. His research areas include water law and policy, energy law, environmental law and global warming. In this episode, DWFI Communications Specialist Arianna Elnes talks to Dave about water law, water legal histories, the South Platte River Compact, and context around the legislation to build the Perkins County Canal in Nebraska.
As background, the South Platte River Compact was drawn in 1922 between Nebraska and Colorado. Nebraska has limited rights to the river, which flows north through Denver, across Eastern Colorado, and into Nebraska. The compact allocated 500 cubic feet per second of the South Platte River to Nebraska through a "future" Perkins County Canal. However, the canal was never finished. Now, nearly one hundred years later, Nebraska's governor has requested legislation to build it.
Listen here or subscribe on your favorite podcast platform:
DWFI Podcast 22 - Dave Aiken, DWFI 24:46
The Robert B. Daugherty Water for Food Global Institute (DWFI) at the University of Nebraska was founded with the mission to have a lasting and significant impact on achieving more food security with less pressure on scarce water resources by conducting scientific and policy research, using the research results to inform policy makers, and sharing knowledge through education and communication.
How to subscribe: