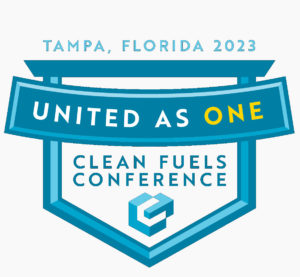 "United as One" is the theme of the inaugural Clean Fuels Conference, January 23-26, 2023 in Tampa, Florida where the role of biodiesel, renewable diesel and sustainable aviation fuel in the national commitment to decarbonization take center stage.
Formerly the National Biodiesel Conference & Expo, the event's rebranding reflects the founding organization's name change last year from the National Biodiesel Board to Clean Fuels Alliance America, recognizing the evolution and expansion of the clean fuels offerings for heavy-duty transportation and new markets like rail, shipping and aviation.
This virtual ag newsroom includes links to photos and audio content available free of charge for digital or print publication or broadcast.
Photos
2023 Clean Fuels Conference Photo Album
Audio
Preview interview with Brad Shimmens, Clean Fuels' Director of Operations and Membership
Clean Fuels Conference preview interview, Brad Shimmens (5:00)
Clean Fuels 101 – interview with Jonathan Martin, Director of Economics & Market Analytics, Clean Fuels Alliance America
Clean Fuels Conference interview, Jonathan Martin, Clean Fuels (3:34)
Opening general session – Clean Fuels Alliance America CEO Donnell Rehagen annual address
Clean Fuels CEO Donnell Rehagen opening remarks (21:41)
Clean Fuels CEO Donnell Rehagen press conference
Clean Fuels CEO Donnell Rehagen presser (11:09)
Opening Session panel on Clean Fuels policy moderated by Clean Fuels COO Doug Whitehead.
Byron Dorgan, Senior Policy Advisor, ArentFox Schiff
Russ Sullivan, Shareholder, Brownstein Hyatt Farber Schreck
Kurt Kovarik,,Vice President of Federal Affairs,,Clean Fuels Alliance America
Floyd Vergara, Director of State Governmental Affairs, Clean Fuels Alliance America
Richard Corey, Partner, AJW
Julie Tighe, President, New York League of Conservation Voters
Clean Fuels policy panel (55:50)
Interview with Kurt Kovarik, Vice President, Federal Affairs, Clean Fuels Alliance America
Clean Fuels interview with Kurt Kovarik, Clean Fuels Alliance America (4:59)
On the Move with B20 and Beyond: Vehicle Technology Showcase
Clean Fuels panel - B20 and Beyond (33:22)
Clean Fuels Inspiration Award winner Patti Earley, Florida Power & Light
Clean Fuels Award winner remarks Patti Earley, FP&L (:33)
Lori Dunn, Chief Operating Officer, Optimus Technologies
Clean Fuels showcase remarks Lori Dunn, Optimus Technologies (8:37)
Kim Noe, Sustainability Program Manager, Deere & Company
Clean Fuels showcase remarks Kim Noe, Deere (7:15)
Joel Feucht, Vice President and General Manager, Large Power Systems Growth Markets, Energy & Transportation, Caterpillar
Clean Fuels showcase remarks Joel Feucht, Caterpillar (10:02)
Ivan Iazdi, Engine Business Strategy Director, Cummins Inc.
Clean Fuels showcase remarks Ivan Iazdi, Cummins (9:16)
Ready for Takeoff: Aviation, Rail, Heating and Marine Markets
Remarks from Clean Fuels Alliance chair Mike Rath, Senior VP of Commodities, Darling Ingredients
Clean Fuels conference remarks Mike Rath, Darling Ingredients (10:55)
Remarks from Dr. Karama Neal, Administrator, USDA Rural Business-Cooperative Service
Clean Fuels conference remarks USDA Administrator Dr. Karama Neal (14:48)
Panel discussion moderated by Paul Nazzaro, president, Nazzaro Group
Scott Lewis, President, World Energy SupplyZero
Theresa Romanosky, Assistant General Counsel, Association of American Railroads
Anthony Silecchia, VP Acquisitions & Industry Affairs, Star Group
Merit von Eitzen, Senior Fuel Trader, Maersk
Clean Fuels conference Aviation, Rail, Heating and Marine panel (44:10)
2023 Clean Fuels Influence Award – Star Group, Anthony Silecchia
Clean Fuels Influence Award - Star Group, Anthony Silecchia (1:33)
Interview with Clean Fuels Alliance chair Mike Rath, Darling Ingredients
Clean Fuels interview - Mike Rath, Darling Ingredients (7:48)
Soybean CEOs Share Perspective on a Changing Landscape
Steve Censky, CEO, American Soybean Association
Kirk Leeds, CEO, Iowa Soybean Association
Stephanie Sinner, Executive Director, North Dakota Soybean Council
Colleen Klein, Executive Director, New York Corn & Soybean Growers Association
Kaleb Little, CEO, Kansas Soybean Association
Clean Fuels soybean CEOs panel (33:13)
Interview with Steve Censky, CEO, American Soybean Association
Clean Fuels interview with Steve Censky, American Soybean Association (7:52)
Clean Fuels Initiative Award – Iowa Biodiesel Board
Clean Fuels remarks Grant Kimberly, Iowa Biodiesel Board (3:34)
Clean Fuels speaker Kevin Lucke, Chevron Renewable Energy Group
Clean Fuels remarks Kevin Lucke, Chevron (14:24)
Clean Fuels speaker Jenny Frank, Assistant Professor of Renewable Energy, State University of New York College of Agriculture and Technology
Clean Fuels remarks Jenny Frank, SUNY College of Agriculture and Technology (22:57)
Clean Fuels for Cleaner Cities – Impact Award: Clean Cities Coalition Directors
Clean Cities panel moderated by Clean Fuels Director of State Governmental Affairs Floyd Vergara – Mark Fitz, President of Star Oilco in Oregon serves on the board of the Columbia Willamette Clean Cities Coalition; Antoine Thompson is Executive Director of the Greater Washington Region Clean Cities Coalition; and Joy Gardner is Executive Director of Empire Clean Cities
Clean Fuels Clean Cities Coalition panel and award (47:51)
Interview with Antoine Thompson, Executive Director, Greater Washington Region Clean Cities Coalition
Clean Fuels interview with Antoine Thompson, Greater Washington Region Clean Cities Coalition (7:20)
Clean Fuels Foundation update with Tom Verry
(4:15)
Interview with K-State students at Clean Fuels Conference
Clean Fuels interview with K-State students (4:25)
Clean Fuels conference exhibitor interview – Tom Slunecka, Plasma Blue
Clean Fuels interview with Tom Slunecka, Plasma Blue (3:08)