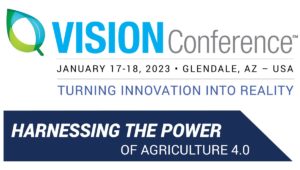 The VISION Conference convenes industry leaders from across the rapidly expanding agtech ecosystem with a singular goal: To shape the strategic roadmap for building a sustainable food value system to feed the world.
The 6th Annual VISION Conference organized by Meister Media Worldwide, the leading global media company serving specialty agricultural markets around the globe, is being held at the Renaissance Phoenix Glendale Hotel & Spa in Arizona January 17-18, 2023. The theme for this year's conference, Harnessing the Power of Agriculture 4.0 – Turning Innovation into Reality, centers the robust two-day event around key topics that are driving Agriculture 4.0: virtual cropping systems, autonomy, AI, climate smart ag, vertical farming, weather mapping, imagery and more.
Supporters and sponsors include Bio Huma Netics, EFC Systems, Planet Labs PBC, and Raven Industries, AgGateway, and the Agricultural Retailers Association.
This virtual ag newsroom includes links to photos and audio content available free of charge for digital or print publication or broadcast.
Photos
2023 VISION Conference Photo Album
Audio
Preview interview with coordinators Lara Sowinski, CropLife Media Group and Renee Targos, Editor of AgriBusiness Global.
The VISION Conference 2023 preview (9:20)
2023 VISION welcome remarks – Joe Monahan, Meister Media President and Chief Operating Officer
VISION 2023 welcome - Joe Monahan, Meister Media Worldwide (5:28)
Interview with Joe Monahan, Meister Media President and Chief Operating Officer
VISION 2023 interview with Joe Monahan, Meister Media Worldwide (3:12)
Unlocking the Potential of Imaging panel – Interview with Dave Gebhardt, General Manager, EarthDaily Agro
VISION 2023 interview with Dave Gebhardt, EarthDaily Agro (4:48)
Autonomy Makes Strange Bedfellows panel – Interview with Curt Blades, Senior Vice President, Association of Equipment Manufacturers
VISION 2023 interview with Curt Blades, AEM (4:44)
How Technology Will Enable the Future Food System from Producers to Consumers – interview with Rob Dongoski, Partner, Global Food & Agribusiness Leader, Ernst & Young
VISION 2023 interview with Rob Dongoski, Ernst & Young (4:55)
Making Autonomy Work in Agriculture –
Interview with Michael Kohen, Founder & CEO, SparkAI
VISION 2023 interview with Michael Kohen, SparkAI (5:25)
Interview with John Appel, Head of Commercial Sales, Biome Makers
VISION 2023 interview with John Appel, Biome Makers (4:49)
Interview with Gabe Sibley, Founder and CEO, Verdant Robotics
VISION 2023 interview with Gabe Sibley, Verdant Robotics (5:03)
Connecting Farmers to Consumers – interview with Aaron Hutchinson, Co-Founder and President, CropTrak
VISION 2023 interview with Aaron Hutchinson, CropTrak (3:55)
2023 VISION Conference interview with Brent Kemp, Ag Gateway, supporting organization
VISION 2023 interview with Brent Kemp, Ag Gateway (5:57)
2023 VISION Conference participant interview with Bill Moffitt, President & Chief Product Officer at Ayrstone Productivity
VISION 2023 interview with Bill Moffitt, Ayrstone Productivity (5:11)
2023 VISION Conference sponsor interview with Ernie Chappell, Founder and President, EFC Systems, Inc.
VISION 2023 interview with Ernie Chappell, EFC Systems (6:02)