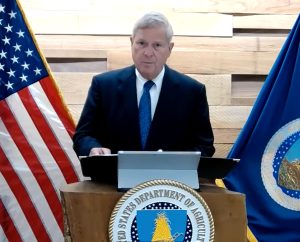 Agriculture Secretary Tom Vilsack Thursday announced the awarding of $9.6 million across the country and taking several other steps to help farmers, ranchers, processors and rural businesses diversify the nation's meat supply.
The Department is awarding 23 Value Added Producer Grant program grants totaling $3.9 million to help producer-owned companies process and market new products. USDA is also providing guarantees for a total of $5.7 million in loans to two companies through the Food Supply Chain Guaranteed Loan Program using American Rescue Plan funding. This program supports new investments in infrastructure for food aggregation, processing, manufacturing, storage, transportation, wholesaling and distribution. Through these two programs, USDA is investing in 25 projects in California, Illinois, Iowa, Kansas, Kentucky, Maine, Montana, Nebraska, New York, Ohio, Oklahoma, Texas, Virginia, Washington and Wisconsin.
In his first call with reporters for 2023, Vilsack answered questions on a few other topics, including the announcement that Senate Agriculture Committee chair Debbie Stabenow (D-MI) will not seek re-election in two years, getting a new farm bill done, the current status of Mexico's plan to ban GMO corn, and whether Congress should re-introduce cattle marketing legislation this year. Listen to the call below.
USDA press call 1-5-23
(28:37)