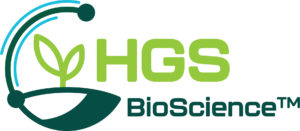 Soil health leader will be the go-to solution for ease of use and higher yields
JACKSONVILLE, Fla. (December 19, 2022) – A new leadership team has taken the reins at HGS BioScience™, and the first move is a new name and brand identity to align with the firm's aggressive growth strategy. The name HGS BioScience™ is a nod to the company's expanding product portfolio and dedication to research and development. Newly-appointed chief executive officer Michael Steffeck has committed to making HGS the preeminent provider of functional carbon products in the world.
"We are laser focused on helping farmers use our science to increase their bottom line," said Michael Steffeck, CEO. "My vision is to create an innovation pipeline and hire the most experienced agriculture leaders to get those products into customer's hands. HGS partners with retailers to help farmers get more from their land, one of our most precious commodities."
HGS is poised for rapid growth in coming years under the new leadership of Steffeck. With decades of leadership experience across the agriculture sector, he brings a singular vision to the role of CEO. He has both founded and led major agricultural companies across the U.S.
"I am thrilled to take on this role at HGS, which is already a leader in functional carbon," Steffeck said. "With new resources afforded by the recent acquisition, we will grow our innovation pipeline. The way forward is through bringing newer, better, more targeted products to customers."
Steffeck's deep experience in both research and development and the retail distribution of proprietary products makes him uniquely positioned to take the company to the next level.
Recent innovations include expanding the Performance Granule™ portfolio. Dry granular products made by HGS have become a top choice for farmers. The functional carbon granule is ready to mix with dry fertilizer, saving precious time in the field. HGS also has an advantage in getting its products to market.
"With six North American production facilities, we can get products where they need to go rapidly. Growers have a narrow window of opportunity to get products into the field. This is a distinct advantage we will continue to build upon," emphasized Steffeck.
Retailers and farmers can expect many product improvements in the future.
About HGS BioScience™
HGS Biocience™ is a soil health innovation company perfecting the delivery of functional carbon to farmers' fields. Its expanding portfolio line Performance Granule™ allows growers to get more yield from each acre by improving soil health and boosting the efficiency of chemical fertilizers. With six North American manufacturing sites and the deepest, most versatile portfolio in the industry, HGS Bioscience™ is shaping the future of soil and plant health in the U.S., Canada and around the world.
For more information, please see www.hgsbioscience.com.
###
Contact: Kathryn Jamboretz
kathryn@jamboretzpr.com
314-484-9333