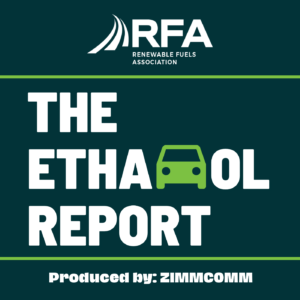 When Congress passed the Energy Independence and Security Act of 2007 (EISA) that authorized the Renewable Fuel Standard (RFS), annual volume requirements were specified through the year 2022 for renewable fuels. But that does not mean this year is the end of the RFS.
After this year, the law requires EPA to set RFS volumes for 2023 and beyond, in coordination with the Secretary of Energy and the Secretary of Agriculture, according to a specific set of factors in a rulemaking commonly referred to as "The Set."
In this edition of the Ethanol Report, Renewable Fuels Association President and CEO Geoff Cooper and National Corn Growers Association CEO Jon Doggett discuss what the set means for the ethanol industry and farmers.
Ethanol Report 9-27-22
(13:10)
The Ethanol Report is a podcast about the latest news and information in the ethanol industry that has been sponsored by the Renewable Fuels Association since 2008.
Choose an option to subscribe