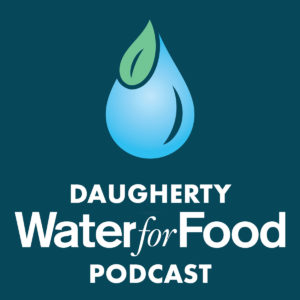 Jackson Stansell is CEO and founder of Sentinel Fertigation, a Lincoln, Nebraska ag startup founded in 2021 that uses drone- and satellite-collected imagery to predict when a corn crop needs fertilization — saving growers money and reducing environmental impact. Jackson has a connection to the Daugherty Water for Food Global Institute. He received student support from the institute while working on his masters in agricultural engineering at the University of Nebraska–Lincoln. Jackson is now also pursuing his Ph.D. in biological engineering.
In this episode of our special series focused on water and agriculture in Nebraska, Frances Hayes, DWFI director of communications and public relations, sits down with Jackson to discuss how he came up with the idea for his company, tips for creating technology growers will actually use and his vision of how agtech entrepreneurs can create a win-win for both farmers and the environment.
Listen here or subscribe on your favorite podcast platform:
DWFI Podcast 14 - Jackson Stansell, Sentinel Fertigation 29:39
The Robert B. Daugherty Water for Food Global Institute (DWFI) at the University of Nebraska was founded with the mission to have a lasting and significant impact on achieving more food security with less pressure on scarce water resources by conducting scientific and policy research, using the research results to inform policy makers, and sharing knowledge through education and communication.
How to subscribe: