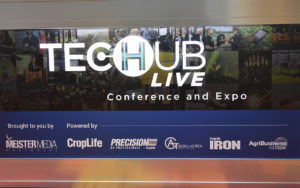 The second annual Tech Hub LIVE Conference and Expo, July 19-21 in Indianapolis, builds on last year's premier event with timely educational programming, expanded business opportunities, and a keynote on strategies for delivering tech solutions to farmers.
The conference will offer diverse networking formats, including one-on-one meetings, break-out sessions, small group discussions, technology talks and fireside chats. The program has been specifically developed to help attendees leverage precision technologies for better profitability, find the latest hardware and software solutions, understand evolving demands, and break barriers to tech adoption.
This virtual ag newsroom includes links to photos and audio content available free of charge for digital or print publication or broadcast.
Photos
2022 Tech Hub LIVE Photo Album
Audio
Interview with Tech Hub LIVE co-chair Lara Sowinski, Crop Life Media Group
2022 Tech Hub LIVE preview with Lori Sowinski 6:19
Tech Hub LIVE keynote speaker David Widmar, managing partner at Agricultural Economic Insights (AEI)
2022 Tech Hub LIVE interview with David Widmar, AEI 6:03
Tech Hub LIVE Partners
Education Partner – EFC Systems – Ernie Chappell, President
2022 Tech Hub LIVE interview with Ernie Chappell, EFC Systems 4:49
Networking Partner – Proagrica – Scott Cogdill, Director of Agronomy Solutions
2022 Tech Hub LIVE interview with Scott Cogdill, Proagrica 3:04
Sustainability Partner – Truterra/WinField United – Dr. Jennifer Wells, Senior Agronomist with Truterra
2022 Tech Hub LIVE interview with Jennifer Wells, Truterra 2:12
Exhibitor Soiltech Wireless, Ehsan Soltan, Founder and CEO
2022 Tech Hub LIVE interview with Ehsan Soltan, Soiltech 3:42
Panelist Kenny Everett, Wyoming farm and ranch operator
2022 Tech Hub LIVE interview with Kenny Everett, Wyoming farmer/rancher 4:53
Global Ag Tech Initiative managing director Eric Davis
2022 Tech Hub LIVE interview with Eric Davis, Global Ag Tech Initiative 4:28