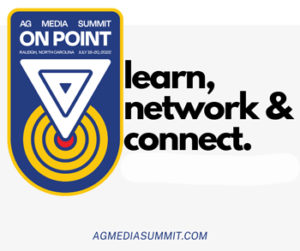 The 2022 Agriculture Media Summit (AMS) is being held July 16-20 in Raleigh, North Carolina with the theme On Point.
The summit began in 1999 and is the largest gathering of the agriculture industry's top writers, editors, photographers, publishers and strategic communicators in the U.S. Providing opportunities for professional development and industry networking, Ag Media Summit is brought to you by the Livestock Publications Council (LPC), the American Agricultural Editors' Association (AAEA), and the Connectiv Agri-Media Committee.
This virtual ag newsroom includes links to photos and audio content available free of charge for digital or print publication or broadcast.
Photos
Audio
Interviews
Kenna Rathai with Broadhead is Chair of the Steering Committee for the AMS this year and she previews the event in this edition of the ZimmCast podcast: ZimmCast 695 - Preview of 2022 Ag Media Summit (12:31)
Interview with Heather Gieseke, Indigo Ag – Interview with Heather Gieseke (04:30)
Interview with Erick Garcia, Valent – Interview with Erick Garcia (02:58)
Interview with Hugh Aljoe, Noble Research Institute – Interview with Hugh Aljoe (16:01)
Interview with Ben Carlisle, Case IH – Interview with Ben Carlisle (4:46)
Interview with Eric Tedford, Summit Agro – Interview with Eric Tedford (4:23)
Interview with Liz Hunt, Syngenta – Interview with Liz Hunt (5:28)
Interview with Jen Hartmann, John Deere – Interview with Jen Hartmann (3:20)
Session Audio
Newsmakers Session – Sustainability, Climate Change, Regenerative Ag – Newsmaker Panel (01:09:00)
Infogather Session – Zach Webb, Bayer – Bayer Infogather Session (07:42)
Infogather Session – Jeff Spencer, BASF – BASF Infogather Session (12:00)
Infogather Session – Leah Anderson, Winfield United/Land O' Lakes – Land O' Lakes Infogather Session (15:47)
Infogather Session – Shaheen Solomon, The Partnership – The Partnership Infogather Session (04:34)
Infogather Session – Clayton Nevins, Pivot Bio – Pivot Bio Infogather Session (11:35)
Infogather Session – Heather Gieseke, Indigo Ag – Indigo Ag Infogather Session (15:20)
Infogather Session – Adam Stephens, Boelte Hall – Boelte Hall Infogather Session (15:20)
Infogather Session – Chad Brommer, Harpe Bio – Harpe Bio Infogather Session (10:45)
Award Winners
ACN Awards (.pdf)
Video