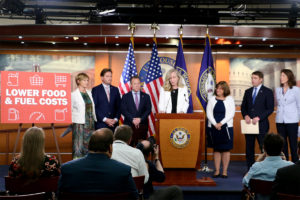 The U.S. House of Representatives voted Thursday on the Lower Food and Fuel Costs Act led by Rep. Abigail Spanberger (D-VA), a package of legislation designed to address supply chain issues for the American energy and agriculture sectors, combat rising fertilizer prices and increase the availability of higher ethanol blends and other biofuels.
The legislation includes Spanberger's Meat and Poultry Special Investigator Act— also known as the Meat Packing Special Investigator Act — which would tackle anticompetitive practices and increase fairness in the American meat and poultry industry. Specifically, her bill would establish a new "Office of the Special Investigator for Competition Matters" at the U.S. Department of Agriculture (USDA). It also includes the Butcher Block Act to expand regional livestock and meat processing capacity, co-sponsored by Rep. Dusty Johnson (R-SD).
The Lower Food and Fuel Costs Act also includes contributions from Rep. Cindy Axne (D-IA) to help lower prices at the pump by moving forward with voluntary year-round sale of gasoline containing 15 percent ethanol — known as E-15 or Unleaded 88.
Rep. Spanberger held a press conference Wednesday with Rep. Axne, Rep. Josh Gottheimer (D-NJ), Rep. Chris Pappas (D-NH), Rep. Annie Kuster (D-NH), Dean Phillips (D-MN), and Susie Lee (D-NV).
House Food and Fuel Costs bill presser
23:35