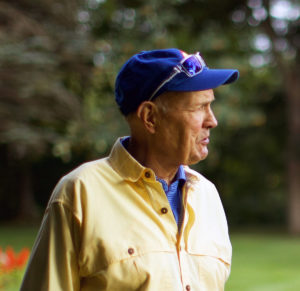 Don E. Funk, fourth generation seedsman and grandson of seed industry pioneer, Edward J. Funk, died June 9, 2022.
At age 25, Don assumed the role of President of the family business, Edward J. Funk & Sons, and turned it into a regional powerhouse. It was later purchased by British Petroleum. In 1999, Don formed a new company, Channel Bio Corp. Under his leadership, Channel created both record setting sales growth as well as an incredible culture, the likes of which the industry had never seen. Now owned by Bayer, Channel is one of the major providers of corn and soybean seed to the U.S. market.
While he viewed himself first and foremost as a plant breeder, Don was a prolific sales and marketing innovator, establishing programs widely copied by competitors and now industry standards. To name a few: Don guided over 40,000 agriculturalists to every corner of the world through his famed Funseekers incentive travel program. He hosted thousands of farmers around the campfire at his beloved lodge in the Upper Peninsula of Michigan. In the 1980s, Don launched Agromatch, the first computer-based, algorithmic customer seed selection tool, preceding the industry by more than two decades. With British Petroleum, Don established an international biotechnology think tank and research center in Ascot, England, which played an instrumental role in spurring the coming focus of biotechnology in the seed industry.
Beyond marketing innovation or seed performance, Don's true passion was the connection he shared with the people for which he cared deeply: American farm families and agriculturalists. A smile and a handshake, Don's signature offering to customers, conveyed his appreciation for those who propelled his companies' growth. He often said his goal wasn't to be a farmer's highest yielding seed, but rather the person who helped them send their kids to college.
At a time when most would slow down, Don put his foot to the pedal. An unwavering optimist, Don re-acquired and re-launched the brands Midwest Seed Genetics and NC+ to provide American row crop farmers a true choice, independent of the ever-growing corporatization of the seed industry. His driving mission was to establish a team focused on earning the partnership, season after season, of progressive farmers and the agriculturalists who serve them. The sustained, record-setting growth of the three brands is a testament that Don's relationship-based approach remains valued and vital.
Don was a committed friend to the incredibly wide network of people who came into his orbit, be it near his hometown of Kentland, Indiana, his residence in Chicago, his lodge at Lake Gogebic, or across the roads and fields of the Midwest. His impact on the thousands of people who worked for him and with him for more than five decades is undeniable. Don was a dedicated philanthropist, giving generously to several initiatives ranging from health care to the arts to rural issues. He did so without seeking personal recognition. He was a devoted sportsman, most comfortable in the woods with his beloved dogs flushing birds around him.
Above all, Don was a loving and beloved husband to his wife Abby, father to Matt (Marcy), Dan (Grith), Katya (Mike) and Luke, and grandfather to William, Isla, Jens, Stella, True, and Sasha.