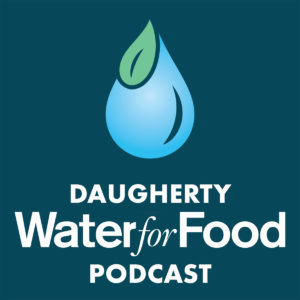 Managed aquifer recharge can be an innovative way to both satisfy endangered species' habitat restoration and benefit crop irrigators in the area. This is exactly how it was used in Nebraska's Central Platte Valley when river canals were already in need of repair after more than 100 years of use.
The process consists of recharging an aquifer using either surface or underground recharge techniques, making the stored water available for use in dry years when surface water supplies may be low. In the Central Platte Valley, this was done through a low cost, low energy method of timing the flow of water and managing its gravitational seep into the ground. It now contributes to the streamflow targets of each endangered bird species, with an estimated value of $43.7 million.
In this episode, DWFI Communications Specialist Arianna Elnes interviews Crystal Powers, research and extension communications specialist with DWFI and the
Nebraska Water Center
. They dive more into this collaboration between the
Central Platte Natural Resource District
(CPNRD), the
Nebraska Department of Natural Resources
(NeDNR), and the
Platte River Recovery Implementation Program
(PRRIP), as well as private irrigation districts and canal companies.
A new book published by UNESCO includes this project as a case study in effective managed aquifer recharge and it was co-authored by Powers.
Listen to the podcast here:
Daugherty Water for Food Podcast Episode 12 16:48
The Robert B. Daugherty Water for Food Global Institute (DWFI) at the University of Nebraska was founded with the mission to have a lasting and significant impact on achieving more food security with less pressure on scarce water resources by conducting scientific and policy research, using the research results to inform policy makers, and sharing knowledge through education and communication.
How to subscribe: