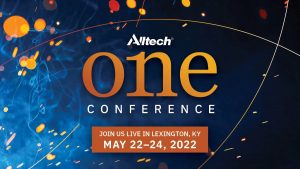 It has been three years since the Alltech ONE Conference was an in-person event but this year it is back in Lexington live, with a virtual option for those unable to make it.
The Alltech ONE Conference (ONE) will feature tracks that will uncover the challenges and opportunities in agriculture, business, health and wellness, and professional development. Now in its 38th year, Alltech's global agri-food conference continues to be an invaluable resource, uniting thought leaders and changemakers in an exploration of the power of science, sustainability and storytelling. This annual flagship event will be held May 22–24, both in person in Lexington, Kentucky, and virtually on a first-class platform, with live-streaming keynote and select on-demand track presentations available to ensure accessibility to everyone, everywhere.
The Alltech ONE Conference will be held May 22–24, 2022, both in person and virtual. For more information and to register, visit one.alltech.com.
This virtual ag newsroom includes links to photos and audio content available free of charge for digital or print publication or broadcast.
Photos
2022 Alltech ONE Conference Photo Album
Audio
Alltech President and CEO Mark Lyons provides a preview.
Preview of Alltech ONE Conference (11:25)
Alltech European Growth Officer Robbie Walker
ONE22 Interview with Robbie Walker, Alltech European Growth Officer (12:58)
Alltech Vice President European Operations Patrick Charlton
ONE22 Interview with Patrick Charlton, Alltech European Operations (9:21)
Alltech CEO Mark Lyons welcome remarks
ONE22 Alltech CEO Mark Lyons welcome (2:15)
Alltech CEO Mark Lyons thrilled with open of ONE22
ONE22 Alltech CEO Mark Lyons comment (1:44)
2022 Alltech Canada Planet of Plenty Award winner – Blue Ridge Farms, Alberta – Interview with Jillian Byers
ONE22 Interview with Jillian Byers, 2022 Planet of Plenty award (10:24)
2021 Alltech Canada Planet of Plenty Award winner – Shipwheel Cattle Feeders, Alberta – Interview with Andrea Stroeve-Sawa
ONE22 Interview with Andrea Stroeve-Sawa, 2021 Planet of Plenty award (7:16)
Interview with IFAJ officers – VP Steve Werblow, United States; Secretary General Adalberto Rossi, Argentina; and Treasurer Adrian Bell, UK
ONE22 Interview with IFAJ Officers (13:19)
Alltech U.S. Poultry Business Manager Karyl Hedden talks about the poultry track at ONE and what's new from Alltech
ONE22 Interview with Karyl Hedden, Alltech Poultry Business (5:40)
Timothy Karl, director of Alltech's lifestyle and companion animal business, discusses the equine track at ONE and what's new from Alltech
ONE22 Interview with Tim Karl, Alltech Equine Business (4:05)
All about Alltech E-CO2 with Vice President Matthew Smith
ONE22 Interview with Matthew Smith, Alltech E-CO2 (7:05)
Alltech North America sales manager for companion animal business Kami Grandeen
ONE22 Interview with Kami Grandeen, Companion Animals (7:48)
Boyd Martin is a three-time Olympian for the United States in the equestrian discipline of eventing
ONE22 Interview with Boyd Martin, professional equestrian (11:38)
Alltech US Swine Business Leader Russell Gilliam
ONE22 Interview with Russell Gilliam, Alltech Swine Business (7:43)
Alltech Global Mycotoxin Management Team Director Nick Adams
ONE22 Interview with Nick Adams, Alltech Mycotoxin Team (9:17)
Alltech Quality Manager, Amy Bell-Elmohammed
ONE22 Interview with Amy Bell-Elmohammed, Alltech (7:46)
Alltech Crop Science Vice President, Steve Borst
ONE22 Interview with Steve Borst, Alltech (9:53)