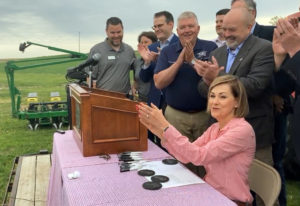 Iowa Gov. Kim Reynolds signed the Biofuels Access Bill into law on Tuesday morning surrounded by farmers and biofuels supporters on a family farm outside of Prairie City. The bill makes Iowa the first state in the nation to adopt an E15 standard and expands access to higher blends of ethanol and biodiesel across the state, lowering fuel prices for consumers.
"I've never been prouder than I am today to be the Governor of the number one ethanol and biodiesel-producing state in the country," said Gov. Reynolds. "Iowa's biofuel production powers our economy and fuels the world, and this historic bill sets the stage for the single largest expansion of biofuels in our state's history. We're sending a message that can't be ignored: America's energy is growing right here in Iowa's fields."
Gov. Reynolds made the bill a top priority this year and it received strong bipartisan support in the state legislature. Iowa Renewable Fuels Association Executive Director Monte Shaw says the legislation is "nation-leading policy that will greatly expand consumers' ability to find lower-cost biofuels at pumps across the state. Iowa is now the first state to have an E15 program and the first state to incentivize B30. Iowa is now truly the leader in both biofuels production and biofuels policy."
The bill increases a Biodiesel Production Tax Credit from 2 to 4 cents per gallon while updating the state's Renewable Fuel Infrastructure Program to increase access to higher blends of biofuels. It extends current fuel retailer tax credits for B11 and higher, while introducing new credits for higher blends like B20 (7 cpg) and even B30 (10 cpg).
"Iowa joins the ranks of Illinois, Minnesota and others with some of the most forwarding-thinking legislation that values the production and use of biodiesel," said Clean Fuels Alliance America CEO Donnell Rehagen. "Along with renewable diesel, it is our nation's best option here-and-now to decarbonize the heavy-duty transportation and home heating oil sectors."
Gov. Reynolds' bill signing took place on land farmed by Will and Cassie Cannon. Listen to remarks from the event here:
Iowa governor signs biofuels access bill 10:35