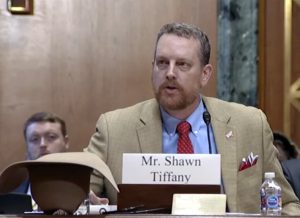 Two bills designed to address transparency and oversight within cattle marketing were the subject of a Senate Agriculture Committee hearing on Tuesday where the National Cattlemen's Beef Association expressed opposition to a "government mandate on cattle sales." The hearing was specifically on the Cattle Price Discovery and Transparency Act sponsored by Sens. Deb Fischer (R-NE) and Chuck Grassley (R-IA) and another bill by Sen. John Tester (D-MT) creating additional oversight through a special office at USDA.
Kansas Livestock Association and NCBA member Shawn Tiffany testified that the legislation could potentially result in fewer marketing opportunities and less incentive for producers to invest in genetics and innovative production techniques that lead to higher-quality beef.
Sen. Fischer defended the legislation as a cattle producer and member of NCBA.
Listen to remarks from Tiffany and Fischer:
Shawn Tiffany, Kansas Livestock Association (5:17)
Sen. Deb Ficher (R-NE)
(3:33)