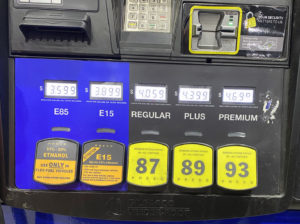 Sales of E15 (15% ethanol fuel) hit a record 814 million gallons in 2021, according to a new analysis from the Renewable Fuels Association.
The 2021 volume represents a 62 percent increase over 2020 and was nearly double pre-pandemic sales volumes in 2019. The analysis is based on recently released data for Minnesota and Iowa that show sales of E15 surged to record levels in 2021. Minnesota and Iowa account for nearly one-third of the retail stations in the United States offering E15.
Learn more in this interview with RFA VP of Industry Relations Robert White.
Interview with Robert White, RFA (1:13)
The Renewable Fuels Association has kicked off a new "Pump Up the Savings" sweepstakes encouraging consumers to share pictures of fuel prices when they fill up at the pump, showing the savings associated with ethanol blends like E15 and E85. Qualifying entries will be entered into a weekly drawing for a $50 fuel card, from now until Labor Day.
Prices vary by market, but E15 is saving some drivers up to nearly $0.50 per gallon over E10, according to pump prices reported on e85prices.com. With flex fuels like E85, drivers can save up to $1 a gallon on average recently, and more than $2 per gallon in states like California.
White talks about the new contest here:
RFA Pump up Savings Contest (1:34)