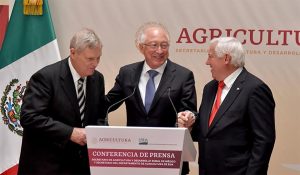 Secretary of Agriculture Tom Vilsack met with his counterpart Mexico Secretary of Agriculture and Rural Development Victor Villalobos this week to "continue cooperation on shared priorities including open trade, science-based policy making, and sustainable and climate-smart agricultural production."
That meeting resulted in Vilsack and Villalobos announcing that the two countries have agreed to final actions to expanded access to the entire Mexican market no later than May 15 for all U.S. table stock and chipping potatoes.
The Secretaries reaffirmed their shared commitment to promoting food security by facilitating trade and continuing to support rural development by expanding market opportunities for agricultural producers and their products; and enhancing plant and animal health cooperation to meet emerging threats and to promote food security.
Vilsack also met with Mexican President Andres Manuel Lopez Obrador for over two hours to discuss a number of issues, including labor and biotechnology.
Listen to a press call with Vilsack from Mexico in which reporters also ask the secretary about CRP signup and Avian flu.
Secretary Vilsack press call (31:19)