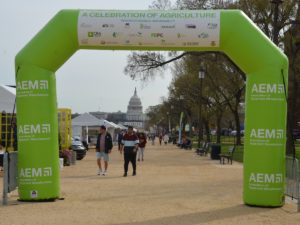 The Association of Equipment Manufacturers (AEM) and over three dozen partner organizations hosted the inaugural Celebration of Modern Agriculture on the National Mall for National Ag Day, which is organized by the Agriculture Council of America (ACA).
National Ag Day preview with ACA chair Amy Bradford, GROWMARK
ZimmCast 688 - Ag Day Preview (14:05)
More than 16,000 visitors attended the two-day festival and engaged with hands-on educational displays about modern agriculture. U.S. Secretary of Agriculture Tom Vilsack celebrated Ag Day at the festival and delivered remarks to the audience.
Ag Day 2022 - Vilsack remarks
(9:06)