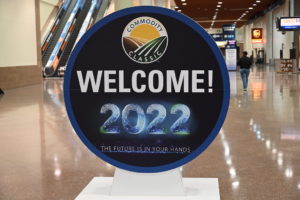 2022 Commodity Classic is excited to welcome the ag industry back together in New Orleans March 10-12.
Established in 1996, Commodity Classic is America's largest farmer-led, farmer-focused agricultural and educational experience. It is presented annually by the American Soybean Association, National Corn Growers Association, National Association of Wheat Growers, National Sorghum Producers, and the Association of Equipment Manufacturers.
This virtual ag newsroom is sponsored by Syngenta and includes links to photos and audio content available free of charge for digital or print publication or broadcast.
Photos
2022 Commodity Classic with Syngenta Photo Album
Classic Interviews
National Corn Growers Association president Chris Edgington from St. Ansgar, IA
Interview with Chris Edgington, NCGA President (7:31)
National Corn Growers Association Board Chairman John Linder from Edison, IL
Interview with John Linder, NCGA Chairman (11:52)
Renewable Fuels Association president and CEO Geoff Cooper
Classic Interview with Geoff Cooper, RFA (6:10)
RFA Vice President for Industry Relations Robert White
Classic 22 Interview with Robert White, RFA (5:24)
United States Soybean Export Council (USSEC) CEO Jim Sutter
Classic Interview with Jim Sutter, USSEC (6:04)
USSEC Director of Sustainability Abbe Rinne
Classic Interview with Abbe Rinne, USSEC (4:23)
USSEC Chairman Doug Winter from Mill Sholas, IL
Classic Interview with Doug Winter, USSEC chair (4:23)
NAFB president Spencer Chase, Agri-Pulse
Classic Interview with Spencer Chase, Agri-Pulse (4:19)
Classic Audio
Secretary of Agriculture Tom Vilsack remarks
Secretary Vilsack remarks (31:55)
Secretary Vilsack press conference
Vilsack press conference (24:24)
Classic organization CEO press conference
ASA CEO Steve Censky; NCGA CEO Jon Doggett; NSP CEO Tim Lust; NAWG CEO Chandler Goule; AEM VP Curt Blades
Classic CEOs press conference (56:13)
Commodity Association Leaders Panel
Brad Doyle, ASA; Chris Edgington, NCGA; Dave Milligan, NAWG; Kody Carson, NSP; & Todd Stucke, AEM
Classic association leaders panel (39:55)
U.S. Soybean Export Council press conference
USSEC Press Conference (23:43)
Farmers for Soil Health Initiative press conference
FSH Press Conference (17:56)
Syngenta News at Commodity Classic
Syngenta Press Conference
Syngenta Press Conference (32:34)
Syngenta introduces CruiserMaxx® APX soybean seed treatment for unmatched Pythium and Phytophthora protection
Interview with Katie Jaeger, Syngenta Seedcare product lead (3:00)
NK Seeds Introduces 2023 Field Forged Series to Help Farmers Optimize Every Acre
Interview with Eric Miller, NK Soybean Product Manager (2:52)
Syngenta launches new sustainability standard benchmarked against SAI Platform's Farm Sustainability Assessment
Interview with Liz Hunt, Syngenta Head of Sustainable and Responsible Business (6:05)
Syngenta announces EPA registration of Tendovo™ soybean herbicide
Interview with Pete Eure, Syngenta herbicide technical lead (2:58)
2021 field trials show Golden Harvest corn delivered stronger yield results
Interview with Andy Ackley, Golden Harvest corn product manager. (3:48)
How producers who feed Enogen® corn can increase feed efficiency by about 5% when fed as grain or silage
Interview with Duane Martin, Enogen Head of Marketing and Stewardship (5:33)
Syngenta digital tools for growers AgriClime and AgriEdge
Interview with Heather Volpe, NK Regional Marketing Lead (4:47)
NK Seeds Partners with John Force Racing for the 2022 Camping World NHRA Drag Racing Series
Interview with Jim Shertzer, Head of NK Marketing (4:56)