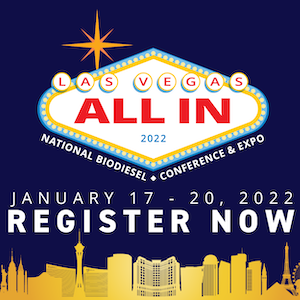 The National Biodiesel Board is "All In!" for the 2022 National Biodiesel Conference and Expo January 17-20 in Las Vegas.
It's the 30th year for the NBB, the 19th year for the conference, and the second year it has been held in Vegas, appropriately as the industry is coming up aces in the age of decarbonization with not only biodiesel, but also renewable diesel and sustainable aviation fuel.
Check the Biodiesel Conference Blog for the latest news from the event.
This virtual ag newsroom includes links to photos and audio content available free of charge for digital or print publication or broadcast.
Photos
2022 National Biodiesel Conference Photo Album
Audio
Brad Shimmens, NBB Director of Operations and Membership
Biodiesel conference preview with Brad Shimmens, NBB (3:05)
Donnell Rehagen, CEO, Clean Fuels Alliance America – Opening Speech
NBB22 Donnell Rehagen Speech (24:22)
Donnell Rehagen, CEO, Clean Fuels Alliance America – Press Conference
NBB22 Donnell Rehagen Press Conference (11:29)
Mike Adams, retired farm broadcaster, Impact Award Recipient Remarks
NBB22 Mike Adams Remarks (4:20)
Mahanth Joishy, City of Madison, Inspiration Award Recipient Remarks
NBB22 - Mahanth Joishy Remarks (1:05)
Age of Decarbonization panel –
Moderator: Matt Herman, Clean Fuels Alliance America
Speakers: Randall Stew, Darling Ingredients; Cynthia Warner, REG; Gary Louis, Seaboard Energy; Gene Gebolys, World Energy
NBB22 - Age of DeCarbonization Panel (51:32)
Clean Fuels Alliance America Chair Chad Stone, REG – Chairman's remarks
NBB22 - Chad Stone, REG (13:39)
RFS Panel – Kurt Kovarik, NBB; Hon. Byron Dorgan, Arent Fox; Hon. John Shimkus, KBS Group; Eric Washburn, Windward Strategies; Kate Shenk, NBB
NBB22 RFS Panel (56:35)
Former Biodiesel Board chairs look back on 30 years – moderated by Donnell Rehagen
Gary Ellington, Bob Metz, Ed Hegland, and Kent Engelbrecht
NBB22 30 Years Panel (42:00)
Closing Panel – Next 30 Years – moderated by Doug Whitehead, Clean Fuels Chief Operating Officer
Mike Devine, Vice President of Sales & Business Development, World Energy
John Jansen, VP, Strategic Partnerships, United Soybean Board
Harry Simpson, President and CEO, Crimson Renewable Energy Holdings
Antoine Thompson, Executive Director, Greater Washington Region Clean Cities Coalition
NBB22 Closing Panel (45:00)
Exhibitors
Plasma Blue
NBB2022 Interview with Tom Slunecka, Plasma Blue (5:58)
Minnesota Soybean "See for Yourself" participants
NBB2022 Interview with Jim Willers, MN Soy (2:55)

NBB2022 Interview with Nick Bredeson, Kibble Equipment, MN Soy (1:50)

NBB2022 Interview with Dan Schmidt, Ag Partners Coop, MN Soy (2:25)

NBB2022 Interview with Ron Obermoller, MN Soy (4:20)

Ron Kotrba, Biobased Diesel Daily – "Birth of American Biodiesel" author
NBB2022 Interview with Ron Kotrba, publisher and author (7:01)

NBB2022 CEO Donnell Rehagen and Ron Kotrba (10:29)