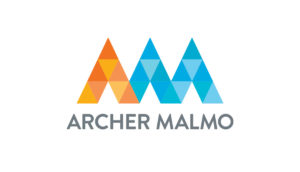 Ag team credits ideal planting conditions, outstanding crop nutrition and excellent pollination for growing 333 bushel per acre of corn on a 3.3-acre plot area
MEMPHIS, Tenn. (Dec. 17, 2021) – The ag team at Archer Malmo, in partnership with the research team at Agricenter International, achieved their Project 300 corn yield goal by growing 333 bushel per acre of corn on a 3.3-acre plot area. The agency also placed second in the state of Tennessee at the National Corn Growers Association (NCGA) Yield Contest.
For 57 years, NCGA has conducted a nationwide corn growing competition among farmers. As a top 3 finisher in their state (conventional tillage, irrigated category), the Archer Malmo ag team will be recognized by NCGA, along with the top farmers in the country, at the 2022 Commodity Classic trade show in New Orleans, March 10-12.
"Project 300 was a very aggressive goal, especially here in west Tennessee," said Fred Nichols, senior vice president at Archer Malmo. "We wanted to see what it took to reach this milestone in terms of products, practices and weather. We'll definitely be giving this another shot in 2022, re-looking at conducting high-yield trials for other crops too. We're always seeking new crop input partners to help us in that journey."
The growing took place at Agricenter International, a 1,000-acre farm and nonprofit dedicated to ag research, education and conservation. Planting began in late April 2021 and harvest wrapped up in mid-November.
"Thanks to Archer Malmo for helping us showcase what's possible at Agricenter," said Dr. Bruce Kirksey, director of farm and research at Agricenter International. "We've proved we can grow top-end yields right here in Memphis, Tennessee."
Several factors went into this year's high yield: superior genetics, ideal planting conditions, outstanding crop nutrition and excellent pollination, to name a few. The corn was planted with AgriGold 6659, a 116-day corn hybrid. YaraVera® AMIDAS, a slow-release fertilizer, was used – helping to feed plants all the way through pollination. Biovante® products were applied to boost plant energy. During the critical phase of pollination, there were relatively mild temperatures, where irrigation occurred only twice during the time.
Last season, the team at Archer Malmo conducted a population study on their farm that showed the benefits of higher populations and applied that knowledge to this season to plant 48,000 seeds per acre.
"Archer Malmo established Archer Acre, our agency's very own farm, in 2016," said Nichols. "It was intended to educate our ag team on crop production. Over the years we've grown 15 different crops, tested various client products, conducted on-farm agronomic research trials and created our own line of branded food products."
Last year, the team grew 268 bushels per acre of corn on one acre, which inspired them to enter the NCGA contest this year. The team will continue to enter the contest again next year and expand on the farm.
###
About Archer Malmo:
Archer Malmo, with offices in Memphis, Tennessee, and Austin, Texas, combines brand thinking, data and technology to help growing brands adapt to the digital and creative complexities of today. Since 1952, we've continually evolved to changes in the industry, helping level the competitive playing field for midsize companies. The agency's combination of discipline specialists, strategic orientation, creativity and culture yields strong client relationships and business results. With more than 175 people, Archer Malmo is one of the oldest independent agencies in the U.S. and has been recognized by Advertising Age and others as a "Best Place to Work" and has been named to the "Inc. 5000" list of fastest-growing private companies in America for five consecutive years.
About Agricenter International:
Agricenter International, a 1,000-acre farm and non-profit in the heart of Memphis, is dedicated to agricultural research and education, agribusiness innovation, and farm safety training. Annually Agricenter has a $524 million economic impact on the Mid-South region, conducts over 250 research trials for more than 60 companies worldwide, hosts millions of visitors and educates over 10,000 students. For more information visit agricenter.org or call 901-757-7777