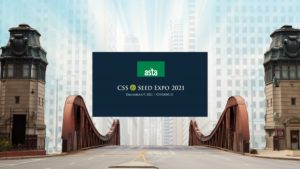 America's largest seed industry conference is back live and in-person at the Hyatt Regency Chicago December 6-9, 2021. The American Seed Trade Association (ASTA) presents the 2021 CSS & Seed Expo with more than 2,000 seed industry professionals from 36 countries.
This year's conference offers an all-new "Villages" concept, showcasing interactive programming in the following key areas: ag tech innovation, operations and logistics, career skills and research/lab facilities, and treated seed. The Seed Expo's "Field Village" offers a first-hand look at the latest in large field equipment, seed sorting and processing and seed logistics and packaging.
This virtual ag newsroom includes links to photos and audio content available free of charge for digital or print publication or broadcast.
Photos
2021 ASTA CSS & Seed Expo Photo Album
Audio
Preview interview with ASTA president and CEO Andy LaVigne
Preview interview with Andy LaVigne, ASTA (4:04)
Wrap up interview with Andy LaVigne, ASTA
Wrap up interview with Andy LaVigne, ASTA (4:47)
Interview with ASTA Chair Brad May, BASF, Vice President, Global Strategic Marketing Seed Treatments
Interview with ASTA Chair Brad May, BASF (6:24)
Interview with immediate past ASTA chair John Latham, Latham Seeds
Interview with past ASTA Chair John Latham, Latham Seeds (6:20)
Alternative proteins panel:
Nicole Sopko – VP, Upton's Naturals and President, Plant Based Foods Association
Tyler Jameson – VP, Government Affairs, Impossible Foods
Mark Macrander – Director, Specialty Grain Contracting & Plant Science, Ingredion Corporation
ASTACSS Alternative Protein panel (34:04)
Interview with Nicole Sopko, Upton's Naturals (5:41)
General Session: 2021 Agricultural Economy Report
AgResource Company president Dan Basse provides annual agricultural economic outlook
ASTACSS - Dan Basse, AgResource, trends overview (5:34)
ASTACSS - Dan Basse, AgResource, China hog hotels and renewable diesel (8:16)
General Session: Carbon Management
Carbon Considerations at Global, National and Farm Scales
Dr. Shalamar Armstrong, Purdue University (14:52)
Emily Bruner, American Farmland Trust (16:30)
Matt Kurtz, Corteva Agriscience (10:00)
Arlene Cotie, Sustainable Ag, Bayer (8:53)
Carbon and the Marketplace
Elizabeth Fastiggi, Amazon (6:34)
Sheila Remes, The Boeing Company (9:28)
Jason Weller, Truterra/Land O'Lakes (6:30)
Interview with Jason Weller, Truterra (11:15)
Wheat Session: How Wheat Contributes to Overall Sustainability
Jamie Ridgely, Truterra; Justin Gilpin, Kansas Wheat; Matt Wehmeyer, AgriMaxx Wheat
ASTACSS Wheat Sustainability session (1:17:50)
ASTACSS sponsor Syngenta
Eric Boeck, Head of Marketing, U.S. Seeds
ASTACSS Interview with Eric Boeck, Syngenta (7:36)
Mary Kay Thatcher, Senior Manager of Federal Government and Industry Relations for Syngenta
ASTACSS Interview with Mary Kay Thatcher, Syngenta (6:26)
Seed World of Precision Breeding seminar
Sonja Begemann – Seed World
Fan-Li Chou – American Seed Trade Association – ASTA
Diego Risso – URUPOV / Seed Association of the Americas
Szabolcs Ruthner – International Seed Federation
ASTACSS Seed World of Precision Breeding seminar (60:00)
Gene Editing panel
Annie Gutsche – Corteva Agriscience
Catherine Feuillet – Inari Agriculture, Inc.
Timothy Kelliher – Syngenta – Syngenta Seeds Research
Robert Stupar – University of Minnesota
ASTACSS Gene Editing panel (60:00)