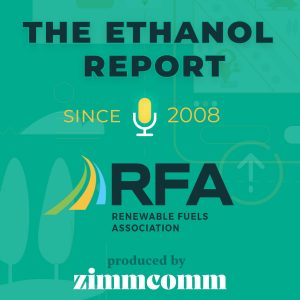 The 26th U.N. Climate Change Conference, better known as COP26, is now underway in Scotland and the Renewable Fuels Association wants to send a message to world leaders that ethanol is already available to help meet climate goals. A new one-page fact sheet spotlights recent research and data proving that ethanol is an immediate solution for cutting greenhouse gas emissions from transportation.
In this edition of The Ethanol Report, RFA president and CEO Geoff Cooper discusses how ethanol can serve as a zero-emissions fuel for cars and trucks while also helping to decarbonize the aviation, marine, and stationary power generation sectors. Cooper also comments on biofuels provisions in the Build Back Better spending bill, the current status of COVID relief aid for ethanol producers, and the 2022 National Ethanol Conference.
Ethanol Report 11-1-21
(13:07)
The Ethanol Report is a podcast about the latest news and information in the ethanol industry that has been sponsored by the Renewable Fuels Association since 2008.
Choose an option to subscribe