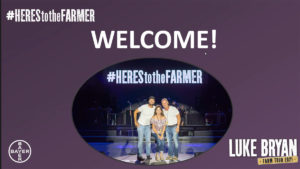 After donating close to 5 million meals across the United States, Bayer will continue its partnership with five-time Entertainer of the Year Luke Bryan in 2021 to celebrate America's farmers and help fight hunger by encouraging use of the hashtag #HerestotheFarmer on social media to help families in need.
Bryan wrapped his FARM TOUR 2021, playing six concerts between September 9 and September 18 in harvest fields across six different states.
'Here's to the Farmer' supports Bayer's vision of Health for All, Hunger for None and asks fans across the United States to share the hashtag #HerestotheFarmer on their social media channels to show their gratitude to America's farmers. For every share, Bayer will provide one meal* to a person in need through Feeding America® with the goal of helping to provide 1 million meals.
Bryan and Beth Roden, SVP and Head of Communications for Bayer U.S., participated in a media call on Friday to talk about the partnership.
Bayer + Luke Bryan media call (27:20)