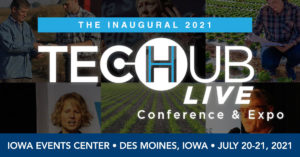 The inaugural Tech Hub LIVE 2021 was held July 20-21 at the Iowa Events Center in Des Moines, IA.
The intersection of agriculture and technology come alive at this new, innovative conference and trade show that addresses digital and precision agriculture from all angles, exploring how products and systems integrate into existing programs and businesses to improve crop production, efficiency, and profitability.
This virtual ag newsroom includes links to digital media content available free of charge for digital or print publication or broadcast.
2021 Tech Hub LIVE Photo Album
Audio
Preview with Paul Schrimpf and Eric Davis with Meister Media
TechHub LIVE preview interview (14:47)
Des Moines Welcomes Tech Hub LIVE
Tech Hub LIVE Mark Laurenzo, Iowa Economic Development (4:08)
Tech Hub LIVE - Billi Hunt, America's Cultivation Corridor (4:33)
The Chad Colby Keynotes Tech Hub LIVE
Tech Hub LIVE Chad Colby interview (7:38)
Partners Make Tech Hub LIVE a Success
Tech Hub LIVE Ernie Chappell, EFC Systems (2:38)
Tech Hub LIVE Shawn Peterson, Proagrica (5:24)
Tech Hub LIVE Winfield/Truterra interview (2:57)
PrecisionAg® Awards of Excellence
Educator/Researcher Award – Nicholas Uilk, South Dakota State University
Crop Adviser/Entrepreneur Award – Michael Ott, Rantizo
Farmer Award – Wade Wilson, Olney, IL (accepted by son Jeremy Wilson)
Legacy Award – Dan Frieberg, Premier Crop Systems
Tech Hub LIVE Precision Ag Award winners (5:41)
Tech Hub LIVE Wraps With AEM Panel
Julian Sanchez, Director, Emerging Technology, John Deere
Michael Gomes, V.P. Business Development – Agriculture, Topcon
Darryl Matthews, Senior Vice President, Trimble Inc.
Tech Hub LIVE Closing panel interviews (8:43)
Sustainability in Focus at #TechHubLIVE
Tech Hub Live interview with Jason Weller, Truterra (8:18)
Hearing from Large Producers About Technology
Tech Hub Live interview with Bill Northey (6:12)
Technology Powering In-Season Decision Making
Tech Hub Live interview with Jeremy Wilson, EFC Systems (4:48)
Tech Hub Live interview with Matt Carstens, Landus
(5:49)
Tech Hub Live interview with Kylen Hunt
(5:21)
Tech Hub Live interview with Doug Applegate, Praxidyn
(4:01)
Tech Hub Live interview with Gary Fitzgerald, Meister Media Worldwide
(6:51)
Tech Hub Live interview with Daren Coppock, Ag Retailers Association
(3:54)