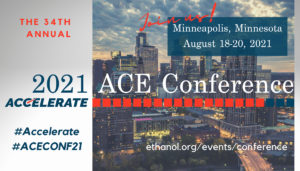 The 34th annual American Coalition for Ethanol (ACE) conference is accelerating forward with plans for a live and in-person event August 18-20 in Minneapolis, Minnesota.
ACE Senior Director of Operations and Programming Shannon Gustafson says the theme of the conference is Accelerate and they are planning a wild ride for the conference this year to celebrate being back in person.
In addition to updates from ACE leadership, the conference will explore the Status of Clean Fuel Policies, Insights on Carbon: Navigating Verification and Measuring Project Value, Developing a Carbon Strategy, Calculating Your Carbon Intensity, Efficient Operational Strategies for Feed Diversification and Lower Carbon Intensity Score for Ethanol Biorefineries, and lots more. Registration is now open and there are still opportunities for industry sponsorships.
Find out more about the conference in this interview with Shannon, and here on the ACE website.
ACE 2021 preview interview Shannon Gustafson
(5:24)