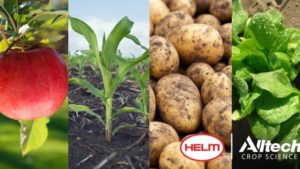 HELM Agro and Alltech Crop Science have announced a partnership to bridge the gap between traditional and biological crop input solutions. This new relationship applies a systems approach to support sustainable practices and provide growers easy access and product education on full-spectrum, integrated crop solutions.
HELM Agro will market, sell and distribute the Alltech Crop Science line of products in the U.S. Alltech Crop Science will continue to manufacture its crop science solutions while also focusing on scientific research and the development of new products. The collaboration brings together product lines from both companies and elevates science and service through expertise, resources and new, innovative product options.
The family legacies that make up the backbone of both HELM Agro and Alltech Crop Science offer a unique, synergistic partnership that furthers science and service to help deliver better performance and profitability for customers at every stage of crop production.
Learn more about the new partnership in this interview with Aaron Locker, vice president of sales, HELM Agro US, and Dr. Steve Borst, General Manager, Alltech Crop Science
Alltech Crop Science/HELM AGRO partnership
(7:20)