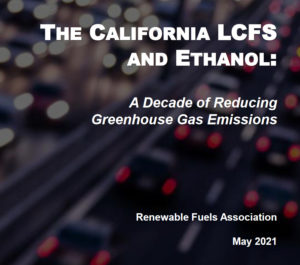 2021 marks the 10th anniversary of the California Low Carbon Fuel Standard being implemented with the goal of reducing greenhouse gas emissions from the state's transportation sector, while also lessening dependence on petroleum by using alternative fuels, like ethanol.
A new Renewable Fuels Association white paper looks at how, for the past decade, ethanol has been the go-to fuel to decarbonize transportation in the Golden State. The use of ethanol under California's low-carbon fuel standard has generated over a third of the state's greenhouse gas savings since implementation of the program began in 2011—more than any other low-carbon fuel used in the state.
In this edition of the "Ethanol Report" podcast, we hear from Renewable Fuels Association president and CEO Geoff Cooper about how the relationship between ethanol and the California LCFS has resulted in a program that provides an example for other states and the nation of how to combat climate change.
Ethanol Report 5-13-21
(16:35)
The Ethanol Report is a podcast about the latest news and information in the ethanol industry that has been sponsored by the Renewable Fuels Association since 2008.
Choose an option to subscribe