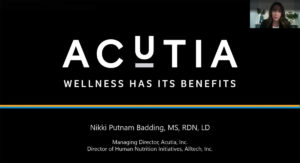 The Alltech Ideas Hub – News and Brews, featured Nikki Putnam Badding, registered dietitian nutritionist and director of Acutia, for this week's program. The topic is Acutia: Sustainable Wellness, Backed by Science.
You can listen to her remarks below.

Launched on March 24, Acutia, a wholly owned subsidiary of Alltech, applies more than 40 years of scientific innovation and proven nutrition expertise to human health.
This exciting milestone represents the continuation of a legacy of innovation that was established by Dr. Pearse Lyons, the late founder of Alltech. An avid runner who understood the benefits of proper nutrition, Dr. Lyons sought to create dietary supplements for humans based on Sel-Plex® and Bio-Mos® — two of Alltech's flagship organic nutrition solutions.
Enlisted by Dr. Lyons for her vast experience as a dietitian, Nikki Putnam Badding played an integral role in building the business from its inception, leading the project through Alltech's internal incubator and startup accelerator programs.
Lisen in: Alltech News & Brews - Acutia (34:07)
This content is available free of charge for digital or print publication or broadcast.