A broad coalition representing automakers, biofuel producers, farmers, electric vehicles, and conservation advocates is endorsing new legislation that would implement a clean fuels standard statewide in Minnesota, which would be the first for a Midwestern state. The American Coalition for Ethanol (ACE) and the Renewable Fuels Association (RFA) are both members of the coalition, which is facilitated by the Great Plains Institute.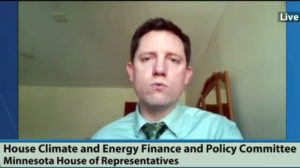 The 25-member Minnesota Future Fuels Coalition is throwing its support behind the Future Fuels Act, which would direct the Commissioner of the Minnesota Department of Commerce with developing a rule to implement a clean fuels standard at the state level to achieve a 20 percent reduction in carbon intensity for all transportation fuel supplied in the state by the end of 2035.
The lead authors of the legislation are Minnesota House of Representatives Assistant Majority Leader Todd Lippert (DFL) and Senate Energy and Utilities Finance and Policy Committee Chairman David Senjem (R). The MN House Climate and Energy Finance and Policy Committee held a virtual hearing on Thursday to hear comments on the bill.
Listen to comments from coalition representatives during Thursday's hearing, beginning with an introduction of the legislation from Rep. Lippert.
MN House committee hearing on Future Fuels Act (23:45)