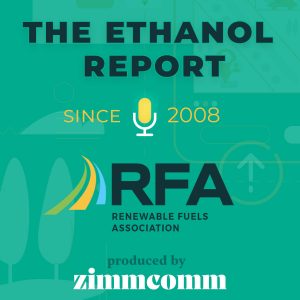 In this edition of the Ethanol Report, we hear from three Renewable Fuels Association (RFA) staff members about the organization's efforts in advocacy, safety, and education.
Troy Bredenkamp is RFA's brand new Senior Vice President for Government & Public Affairs in the Washington D.C. office and he could not be coming on board at a more critical time for the industry with a new administration and a new Congress. He discusses what RFA will be doing to work with the new leadership.
Missy Ruff is RFA's Director of Safety and Technical Programs and also serves as chair of TRANSCAER®, a voluntary national outreach effort that focuses on providing assistance to local communities to help prepare for and to respond to possible hazardous material transportation incidents. She talks about RFA's decade of leadership in ethanol safety training and what is new for 2021.
Finally, we hear from RFA Vice President of Industry Relations Robert White about one of the organization's very successful outreach and education programs – the Crappie Masters Tournament Trail, which just kicked off with RFA and National Corn Growers Association as co-title sponsors for the fifth year in a row.
Ethanol Report 1-28-21
(24:11)
The Ethanol Report is a podcast about the latest news and information in the ethanol industry that has been sponsored by the Renewable Fuels Association since 2008.
Choose an option to subscribe