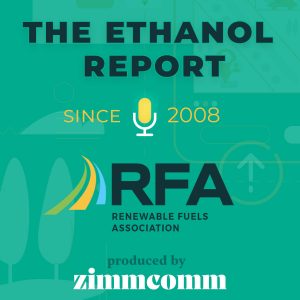 Like everyone else, ethanol producers will be happy to see the end of 2020 with hopeful hearts that 2021 will be a better year.
In this edition of the Ethanol Report, we take a ride back through the year starting with the high hopes for a great year in January and February, into the devastating impact of COVID-19 restrictions on travel in the spring, the continuing saga of small refinery waivers, celebrating 15 years of the RFS and increases in E15 availability, and ending the road with preparations to work with a new presidential administration.
Comments come from Renewable Fuels Association president and CEO Geoff Cooper, RFA Chief Economist Scott Richman, Senior Strategic Advisor Bob Dinneen, Vice President of Industry Affairs Robert White, Director Of Market Development Cassie Mullen, RFA board members Jeanne McCaherty with Guardian Energy, Randy Doyal with Al-Corn Clean Fuel, Neil Koehler with Pacific Ethanol, and Chuck Woodside of KAAPA Ethanol.
Ethanol Report 12-28-20
(27:11)
The Ethanol Report is a podcast about the latest news and information in the ethanol industry that has been sponsored by the Renewable Fuels Association since 2008.
Choose an option to subscribe