To further support retail partners and growers across Florida, Yara North America will now distribute their flagship calcium-based nitrogen and other Premium Products through Ambassador Services International located at Port Canaveral, Florida. The first Yara vessel was welcomed at Port Canaveral on Thursday, November 5th.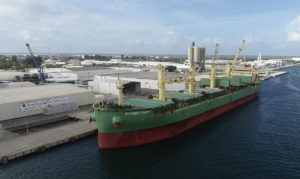 This advancement promotes our commitment to investment in quality partnerships and further positions Yara to better serve key markets including citrus, specialty crops and turf and ornamentals across Florida and other niches of the Southeast region. Ambassador Services International's climate-controlled storage facilities will ensure premium products, particularly YaraLiva® TROPICOTE®, will be stored at the ideal temperature and humidity level to maintain the quality standards Yara is committed to delivering to its customers and growers.
"By ensuring high-quality premium products are readily available in this key market we will be able to better support the growth and return on investment of growers across Florida and the Southeast." said Federico De Vries, VP U.S. Eastern Sales & Marketing at Yara North America. "YaraLiva TROPICOTE in particular has proven to be a key product for end-users across a variety of specialty crops, and Ambassador's high standards of storage and handling will ensure the product maintains the level of quality needed to be effectively and efficiently applied."
Ambassador will also enable Yara to improve storage and handling of bulk materials and bagging in both bulk and 50 lb. bags to deliver high-quality products that accommodate the crop nutrition needs of all end-users. Additionally, the convenient ground transportation and loading facilities are expected to keep load time at a minimum. Ambassador's Port Canaveral facility complements Yara's existing distribution footprint for YaraLiva TROPICOTE and other Premium Products on the east coast which already includes Wilmington, NC and Savannah, GA.
"We're committed to providing our customers and end-users with high-quality products as well as efficient, reliable and safe operations related to product handling and distribution. Ambassador's high-quality, well managed assets at Port Canaveral supports our efforts to improve quality, storage and distribution of premium products." said Steve Rodgers, VP Supply Chain Yara North America.
"We have built our business through long-term partnerships with our customers," said Brian Hubert, President of Ambassador Services International, which was recently acquired by Enstructure LLC. "Yara is a global leader in the fertilizer industry and we look forward to providing best-in-class service to Yara for years to come."
###
Media Contact:
Allison Stahl, Yara North America
813-222-3832
allison.stahl@yara.com
About Yara
Yara grows knowledge to responsibly feed the world and protect the planet. Supporting our vision of a world without hunger, we pursue a strategy of sustainable value growth, promoting climate-friendly and high-yielding crop nutrition solutions for the world's farming community and food industry.
Yara's ambition is to be the Crop Nutrition Company for the Future. We are committed to creating value for our customers, shareholders and society at large, as we work to develop a more sustainable food value chain. To achieve our ambition, we have taken the lead in developing digital farming tools for precision farming, and work closely with partners throughout the food value chain to improve the efficiency and sustainability of agriculture and food production.
Founded in 1905 to solve the emerging famine in Europe, Yara has established a unique position as the industry's only global crop nutrition company. With our integrated business model and a worldwide presence of around 16,000 employees and operations in over 60 countries, we offer a proven track record of responsible and reliable returns. In 2019, Yara reported revenues of USD 12.9 billion. www.yara.com
About Ambassador Services International
Ambassador Services International is a marine terminal operator located 50 miles east of Orlando in Port Canaveral, Florida. Ambassador's unique infrastructure serves as a gateway to Central Florida, operating on 55 acres with 440,000 square feet of warehouse storage, including 280,000 square feet of cold storage, and rail access through Florida East Coast Railway. Ambassador's services include transloading of conventional bulk cargo, cruise porter services and cold storage warehousing solutions. https://asiterminals.biz/
About Enstructure
Enstructure LLC, Ambassador Services International's parent company, owns and operates a network of dry, liquid and breakbulk terminals and logistics assets on the East Coast and Inland River System of the United States. Enstructure provides full-service and transparent logistics solutions to some of the world's largest companies. Enstructure's terminals handle commodities used in the energy, agriculture, manufacturing, construction, and public safety sectors that touch every aspect of daily life. www.enstructure.com/